Jeanette Dorner, Restoring Salmon for the Nisqually Tribe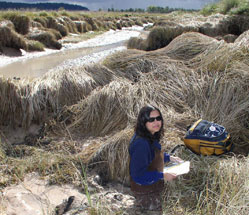 Jeanette Dorner measures a tidal channel in the Nisqually River estuary.




As the salmon recovery program manager for the Nisqually Tribe, Jeanette Dorner, '99, is leading the effort to recover salmon and restore habitat in the Nisqually River Watershed. Dorner bridges the gap between the technical and policy worlds of fisheries and restoration ecology, working with the public, natural resource managers and scientists to develop and implement a strategic plan to restore and protect salmon habitat along the Nisqually River corridor, from Mount Rainier to Puget Sound.

Dorner's work in salmon recovery began while a student at SFR when she was working toward her master's degree in restoration ecology. As coordinator for the restoration of Muck Creek in Roy, Wash., she worked with volunteers and partner agencies to remove grass from the creek bed and plant trees and native shrubs on the shore. Their work allowed salmon to swim upstream once again and gave Roy its first salmon run in more than 50 years.

Of her work with the Nisqually Tribe, Dorner says, "The river has been a tribal cultural resource for thousands of years. The tribe has successfully protected its legal right under treaty to fish in the Northwest. Now we are restoring this watershed to ensure that there will be salmon plentiful enough to fish today and in future generations."

Restoration projects the tribe has made possible through working with its partners in the watershed have included building logjams to increase in-stream habitat diversity, removing dikes that were impeding the flow of saltwater in the Nisqually Estuary, removing culverts that were barriers to salmon migration, returning dead salmon to the waters to provide nutrients for younger salmon and nearby vegetation and planting trees along priority salmon streams. The work is supported by funds from federal, state and nonprofit grantors.

Specific projects in recent years have included building engineered logjams in the Mashel River, the Nisqually's largest tributary. The logjams help restore spawning habitat and resting and hiding places for Chinook salmon by recreating the deeper pools lost due to past activities like channelizing the river and removing fallen trees from the water during logging operations. "The Mashel project is a collaborative effort with the South Puget Sound Enhancement Group," says Dorner, "and a good example of our partnership with regional organizations with similar restoration and conservation goals."

Another partnership project with U.S. Fish and Wildlife Service and Ducks Unlimited, completed last fall, involved removing dikes from the Nisqually National Wildlife Refuge to restore the Nisqually estuary—a rich biological ecosystem that provides habitat for hundreds of species of aquatic plants, invertebrates, fish and sea birds. Most of the delta was blocked with manmade dikes more than 100 years ago to keep the tide out and create farmland; removing the dikes has reconnected 762 acres of salt marsh and mudflats and 21 miles of tidal channels with the South Sound tides. This project complements and builds on the work that the tribe previously completed to restore another 140 acres of estuary on tribally owned land.

Dorner, a graduate of Landmark Education's Team Management Leadership Program, serves on the Pierce County Surface Water Advisory board and was also recently elected to the Pierce Conservation District's volunteer Board of Supervisors. The mother of a six-year-old and a six-month-old, Dorner says, "I got my feet wet in the restoration world as a volunteer with the district's Stream Team back in 1996. I want to work with the district to help insure that when my children grow up they will still be able to buy food from a local farm and take their children to see salmon swimming in the stream."