Gordon Bradley Is First B. Bruce Bare Endowed Professor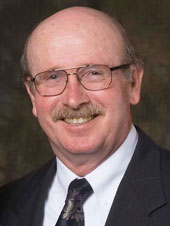 Gordon Bradley
Gordon Bradley arrived at the UW fresh out of graduate school nearly 40 years ago with the idea of trying academic life for a couple of years. He stayed, and has found it to be a rewarding way to fulfill his personal and professional goals, including a productive teaching and research career and collaboration and consulting for a wide range of natural resource organizations. In April 2010, he became the inaugural recipient of the B. Bruce Bare Endowed Professorship in Forest Resources.
Bradley earned a bachelor's degree in landscape architecture from California State Polytechnic University in 1969, a master's in landscape architecture from the University of California, Berkeley in 1972 and a doctoral degree in urban and regional planning from the University of Michigan in 1986. His research and teaching interests include environmental policy and planning, urban ecology and urban forest landscapes. His research focuses on human response to land use change along the urban to wildland gradient, and the relationship between forestlands and the built environment. His research and consulting clients include public agencies at the federal, state and local level and private natural resource management companies. He serves on several state and local advisory panels, and served two terms on the National Urban and Community Forestry Advisory Council, a 15 member panel appointed by the Secretary of Agriculture.
At the UW College, and now School of Forest Resources, Bradley has served in leadership positions, including associate dean, faculty chair and chair of the Strategic Planning Committee. "Gordon has been instrumental in helping us to use strategic planning in our decision-making," says Tom Hinckley, SFR's Interim Director. "This process has helped us navigate responsibly the changes in our curriculum and organizational structure and our broadened research focus over the last 12 years. Gordon's research, which responds to challenges along the urban to wildland gradient, is integral to our interdisciplinary vision and our emphasis on sustainability in natural and managed environments."
The Bare Professorship honors Dean Emeritus B. Bruce Bare who served as dean of the College of Forest Resources from 2001-2009. It allows the school to recruit, retain and reward distinguished faculty who conduct research and teaching that contribute to the development of the science of sustainability with an emphasis on the integration of human and natural elements involved in natural resource management. The professorship was a gift of the Corkery family, longtime UW and Forest Resources supporters, in which Jack, '39, and Vada May Corkery, through the direction of an estate gift from the late George Corkery, Jr., '41, joined an initial gift by Katherine Reinleitner to fully fund the professorship.
The professorship will allow Bradley to refocus attention on teaching and research initiatives that have been delayed in recent years by an increased commitment to administrative responsibilities. One project is revision of a guidebook, Harvest Practices in Visually Sensitive Areas, to help natural resource agencies and industries include consideration of visual effects in forest management decisions. Bradley will also continue research on sustainable human settlement, focuslng on the reciprocal relationship between human settlement and forested environments. The basic thesis is that human settlements can be planned and designed within forest ecosystems in such a way as to maintain the functional integrity of the ecosystems, thus benefiting both the forest ecosystem and the people and communities within them. Another planned project is an exploration of the driving forces of land use change and the loss of forestland to land-use conversion.
"The UW has provided everything I could want for a rewarding career," says Bradley. "My work with students and natural resource professionals has provided me with lasting friendships across the country and around the world." While many associations with students may be for a one-quarter class, others last for years and turn into professional working relationships. One group of students with whom he has maintained close contact over the years were participants in a two-week field trip class that he used to teach each year prior to the beginning of fall quarter. In recent years he has hosted dinners at his home for students in his 1975 and 1977 field trip classes—in effect, reunions with students he taught over 35 years ago. "Experiences like these," he says, "provide the kind of work-related satisfaction that makes a teaching career so rewarding."