Woody Biomass—Renewable Energy for Washington State?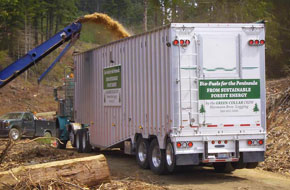 This customized chip van is designed to access woody biomass along forest logging roads.
Responding to growing interest in the use of woody biomass as a clean, carbon-neutral and renewable energy source, SFR last year produced a policy report for the Washington State Legislature, Wood to Energy in Washington: Imperatives, opportunities and obstacles to progress. The report indentified three imperatives driving energy policy decisions: climate change mitigation, energy independence and sustainability.
Now Washington's resource-dependent communities are eying woody biomass as a means to improve the economics of managing forestlands and to help revive the area's forest products industry. Green energy production from woody biomass—is it the answer? "Well, maybe," says John Calhoun, Director of the Olympic Natural Resources Center (ONRC) in Forks, Wash., one of SFR's interdisciplinary research and education centers. ONRC is currently devoting a considerable portion of its research resources to help answer this question.
In January 2009, ONRC was asked by the Clallam County Economic Development Council to estimate the amount of available woody biomass that could be collected within 50 miles of Forks. A review of the literature on how to calculate woody biomass production from logging operations and pre‐commercial thinning operations, as well as locally used "rules of thumb" to make estimates, revealed that the estimates in the literature were derived from outdated logging practices, such as clear cutting of old growth forests, and that there has been no attempt to make estimates from pre-commercial thinning operations. "Rule of thumb" estimates were unreliable because little serious effort to collect and remove logging debris had occurred. With these caveats, the estimate produced by ONRC was between 240,000 and 325,000 green tons of woody biomass available each year. "Even with shaky figures, this seemed like a lot," says Calhoun, "but it also was obvious that improving the quality of data on biomass availability and sustainability so that it could support investment decisions by private and public investors was essential."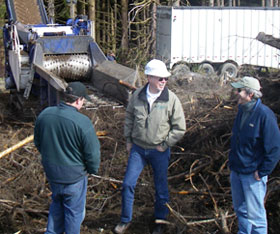 ONRC Research Coordinator Jason Cross,'98, 02, left; ONRC Director John Calhoun; and Associate Professor Eric Turnblom.
With USDA Forest Service and U.S. Department of Energy funding, SFR researchers are working to develop better estimates of available woody biomass on the Olympic Peninsula, including upgrading published logging residue ratio data and developing supply and cost curves for regional processing centers. Associate Professor Eric Turnblom is the principle investigator updating logging residue ratios and Calhoun is the principle investigator on the portion of the project that will develop supply and cost curves for regional processing center (a supply curve reflects the amount of available material and the cost to deliver that material to a specific location). ONRC Research Program Coordinator Jason Cross,'98, '02, provides technical support for project design and will take the lead in writing the final report. ONRC will contract with a local forestry services firm to take the field samples throughout a five county study area on the Olympic Peninsula. Samples will include testing for volume and density of woody biomass at logging sites, and processing and weighing the material for various strata to establish logging residue ratios of investment grade quality.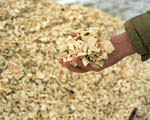 Says Calhoun, "This work is critically important as federal and state programs are gearing up to support clean energy projects based on the use of woody biomass. We know this approach to clean energy works; the recent groundbreaking for the new woody biomass-fired boiler at Forks High School is an example. This is the first modern school in the state to heat buildings with woody biomass. Its boiler needs only modest amounts of feedstock to operate—about 25 tons per week—but demonstrates the feasibility of green energy production in our region."

* Photo by Bill Hermann