College News
School Welcomes 2 New Faculty Members

Ernesto Alvarado
Ernesto Alvarado, '92, a longtime member of the U.S. Forest Service's Fire and Environmental Research Applications Team in Seattle, has been named research associate professor in Wildland Fire Science. Alvarado teaches courses on wildland fire management and fire ecology. His research on wildland fire spans the Americas, including Alaska, the western states, the Brazilian Amazon, Mexico and Bolivia. Alvarado also collaborates on firefighter training in the U.S. and Latin America.

Stanley Asah
Stanley Asah will join the faculty as assistant professor in the Human Dimensions of Natural Resource Management beginning in fall quarter 2009. Asah received an M.S. and Ph.D. in water resource sciences from the University of Minnesota and has been working with the Minnesota Department of Natural Resources Science Policy Unit.

Land Conversion and Wood-to-Energy
Research reports on land conversion and wood-to-energy, commissioned by the Washington State Legislature and co-authored by Forest Resources faculty, staff and graduate students, were recently released. "Retention of High-Valued Forest Lands at Risk of Conversion to Non-Forest Uses in Washington State" responds to a 2007 legislative allocation for a report recommending actions to retain highest-valued forest lands at risk of conversion to non-forest uses. "Wood to Energy in Washington; Imperatives, Opportunities, and Obstacles to Progress," also commissioned by the State Legislature, suggests that woody biomass could represent the state's greatest opportunity to develop biofuels and reduce both green house gas emissions and dependency upon imported oil. The report further concludes that the state's biomass would best be used for transportation fuel as opposed to using it to generate electricity. Read the UW press release on the Wood-to-Energy report.
Denman Program on Future of Forestry in the Pacific Northwest
The Denman Forestry Issues Series presented a program in May 2009 on "The Future of Forestry in the Pacific Northwest." The program showcased the wide range of expertise on forestry issues within the College and included:
Bruce Bare on The History of Forestry in the Pacific Northwest
Ivan Eastin,'90, '92, on Northwest Forest Products: The continuing need
Jerry Franklin on Ecosystem Services and Environmental Concerns
Gordon Bradley on Population Increase and Forest Conversion
Jim Lutz,'05, '09, on Global Climate Change
Steve West on Wildlife Management in Pacific Northwest Forests
Bruce Lippke on Wood Products, Biofuels and Carbon Sequestration
John Perez-Garcia on Changing Land Base and Ownership Patterns
Greg Ettl,'95, on Managing Forests for Multiple Purposes: Certification vs. regulation
Dave Briggs,'79, on New Precision Tools for Forest Management.
Denman programs are recorded by UWTV in digital format and broadcast nationwide on the UWTV cable channel and the ResearchChannel. They can also be viewed via streaming video at the UWTV website. The series is funded with support from Mary Ellen and the late W. Richard Denman.


UWTV Airs Lecture on Carnivore Conservation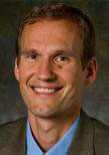 Aaron Wirsing
UWTV has completed the video production of the latest "Sustaining our Northwest World" Series, a joint production of Forest Resources and the UW Alumni Association. The program, "Carnivore Conservation in the Pacific Northwest," features Assistant Professor Aaron Wirsing and his research on predator-prey interactions and explores carnivore conservation in our region. Watch the video on the UWTV Web site, which also has a feature story on Wirsing, in which he talks about carnivore predators in the North Cascades. And, see the Spring/Summer 2009 Forest Resources online newsletter for another profile of Wirsing's research.
UW/UBC Silviculture Challenge: Friendly Competition, Real-life Issues
Beginning in 2007, the School has linked with the University of British Columbia (UBC) College of Forestry to organize an annual Silviculture Challenge. Alternating locations between British Columbia and Washington each year, teams of students from the two institutions meet over a weekend in early spring to tackle a silviculture problem. Each team designs a solution and prepares a presentation, which is judged by professional foresters and natural resource managers, often alumni of the two institutions. Faculty mentors for the program include Forest Resources Professor David Ford and Affiliate Professor Greg Ettl,'95, and UBC Professor Bruce Larson,'82. Says Ford, "We need to train the new generation of silviculturalists to analyze problems and be able to explain potential solutions to a diversity of audiences." Who's gotten the winning plaque so far? The score is UW 2 to UBC 1, with UBC winning the first challenge. "But," says Ettl, "each competition has been close and all participants appreciate the chance for collegial contact between the two universities." For an article on the Challenge, see the Forest Resources Spring/Summer 2009 newsletter.
Staff of the Center for Sustainable Forestry at Pack Forest (CSF) collaborated in a summer project with partners Nisqually Tribe Stream Stewards, Washington State University Native Plant Salvage, Tacoma Power and Stewardship Partners, LeMay, Inc., and Waste Connections, Inc. to install a 450-square foot rain garden at Pack Forest's Macbride Hall. Duane Emmons, '99, CSF staff forester helped coordinate and plan the project. Center staff also prepared the site—digging the hole, mixing the removed soil with compost for reuse, preparing mulch and installing rocks—and helped move plants, greet volunteers and provided coffee and snacks. Future tasks to complete the project are preparing the gutters to drain into the garden and reseeding the prep area. The rain garden is an important element of the Low Impact Development and Sustainable Building program for the Nisqually Watershed Stewardship Plan. View photos of the rain garden project in progress.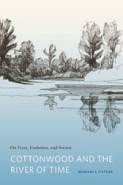 Emeritus Professor Reinhard Stettler is author of a book just published by the University of Washington Press, Cottonwood and the River of Time: On Trees, Evolution and Society. Stettler looks at some of the approaches scientists have used to unravel the puzzles of the natural world, and with his lifetime of work in forestry and genetics to guide him, celebrates what has been learned and what still remains a mystery about cottonwoods and, more generally, trees, their evolution and their relationship to society.