Facts and Figures: Fire and Mountain Ecology Lab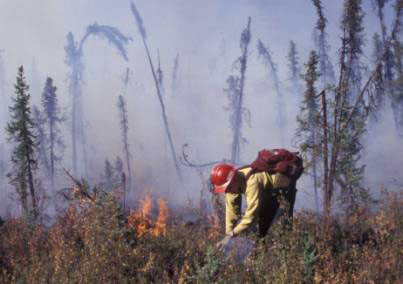 U.S. Forest Service research forester Roger Ottmar, '80, collects data during Alaska's 2004 fire season, one of the worst in several decades.
The School of Forest Resources Fire and Mountain Ecology Lab is a longstanding collaboration with the U.S. Forest Service Pacific Wildland Fire Sciences Laboratory. Affiliated with the Forest Service's Fire and Environmental Research Applications Team (FERA), located in Seattle's Fremont neighborhood, its scientists conduct research on fire, climate change and forest ecology in mountain ecosystems of western North America.

Forest Resources Professor David Peterson, FERA Team Leader, is also a Forest Service biologist, directing research on fuels and fire science with direct applications to resource management on public lands.

Peterson was among other UW and Forest Service scientists recognized in 2007, when the Nobel Committee awarded the Nobel Peace Prize in equal parts to the Intergovernmental Panel on Climate Change (IPCC) and Al Gore, Jr. Also included in this recognition was Linda Heath, '89, of the Forest Service's Northern Research Station.

UW Forest Resources alumni are well represented among the UW and Forest Service staff who currently work with the lab:

Ernesto Alvarado, '92, research associate professor, School of Forest Resources
Anne Andreu, '05, research scientist, School of Forest Resources
Morris Johnson, '01, '08, ecologist
Jeremy Littell, '06, research scientist, Joint Institute for the Study
of the Atmosphere and Ocean
Don McKenzie, '94, '98, quantitative fire ecologist and School of Forest Resources affiliate assistant professor
Roger Ottmar, '80, research forester
Susan Prichard, '96,'03, fire ecologist
David Sandberg, '66,'74, emeritus scientist
Clint Wright, '96, research forester

For publications, press releases and media stories involving the laboratory's research, see "Researchers foresee more fires as climate changes," in the Spokane Spokesman Review; "2008 Science Accomplishments" press releases; and recent papers, including in Quaternary Research, "Holocene fire and vegetation dynamics in a montane forest, North Cascade Range, Washington, USA," by Susan J. Prichard, '96, '03, Ze'ev Gedalof, '02, (now with the University of Guelph in Ontario, Canada), W. Wyatt Oswald, '98, '02, (now with Emerson College in Boston) and David L. Peterson; and in Ecological Applications, "Climate and wildfire area burned in western U.S. ecoprovinces, 1916-2003," by Jeremy S. Littell, '06, Donald McKenzie, '94, '98, D. L. Peterson and A. L. Westerling.