Scholarship Strengthens UW's Ties to Yakama Nation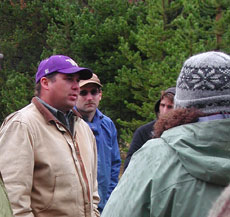 Philip Rigdon, '96, left, director of the Yakama Nation Department of Natural Resources, talks with Environmental Science and Resource Management students during a visit to the Yakama Nation reservation.
The Yakama Nation and the College of Forest Resources share more than a commitment to natural resource management. CFR faculty bring UW students to the reservation for hands-on lessons about conservation and renewable resource management. Since 1990, more than 10 Yakama Nation members have graduated from the college. To continue to strengthen that connection, the college recently created the Yakama Tribal Natural Resources Endowed Scholarship to support UW students from the Yakama Nation interested in natural resource management.
"The land they're stewarding and the cultural connection is really impressive," says Thomas Hinckley, the David R. M. Scott Endowed Professor of Forest Ecology and a scholarship donor.
The scholarship committee is considering renaming the award to honor Yakama Nation member Timothy M. Brown, '99, '02, who died in 2007. Brown received his bachelor's and master's degrees from CFR, was a doctoral candidate in the College of Engineering and a critical link between the UW and the Yakama Nation.
Philip Rigdon, '96, director of the Yakama Nation Department of Natural Resources, is one of the CFR graduates who have taken forestry lessons learned at the UW and implemented them on the 1,377,034-acre Yakama Nation reservation, a major timber producer in south-central Washington state. "We're very proud of our approach to forestry here in Yakama," Rigdon says. "We use the science we learned through school, but incorporate the values of our people."
The Yakama Endowed Scholarship is only one example of the college's commitment to partnership with tribal resource managers in the Pacific Northwest. For stories about a collaborative effort to explore environmentally friendly, economically sound alternative energy sources, see the UW Alumni Association Viewpoints feature, BioEnergy's Big Picture (.pdf file), and University Week article, Graduate students and Native American tribes will tap forests, farms for biofuels.