Poplar Science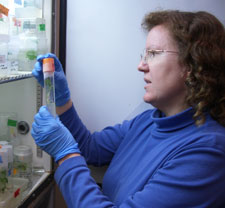 Assistant Professor Sharon Doty

What do you get when you cross a rabbit with a tree?

Less pollution.

If that doesn't strike you as particularly funny, that's because it's no joke. Working with Oregon State University and Purdue University colleagues, several CFR researchers, including Assistant Professor Sharon Doty, Research Professor Stuart Strand, graduate students Jun Wong Kang and Glenda Singleton, along with research staff Zareen Khan and Azra Vajzovic (now a Ph.D. student in CFR), recently discovered that poplar trees became extra-good at gobbling up toxic chemicals from the air and water when they'd been inoculated with rabbit genes. Suddenly the trees were capable of neutralizing benzene, vinyl chloride and a host of other cancer-causing toxins.

The discovery raises all the usual concerns about genetic manipulation and unintended consequences to the ecosystem. But handled cautiously, the scientists say, it also holds a good deal of promise for the future of environmental protection and disease prevention.

The research was published in the Proceedings of the National Academy of Sciences and generated widespread national and international coverage in both the scientific and lay media. Listen to a KUOW radio interview with Professor Stuart Strand. Read about the research in the Seattle P-I, Mutants or saviors? Rabbit genes create trees that eat poisons and on Live Science, Genetically Engineered Plants Could Clean Humanity's Messes.

Adapted from an article by Eric McHenry originally appearing in the December 2007 issue of Columns, the UW alumni magazine.