Ara Erickson Leads Conservancy's Green Cities Program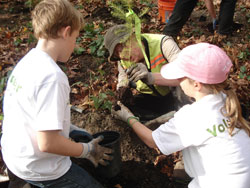 Cascade Land Conservancy volunteers
As Director of the Cascade Land Conservancy's (CLC) Green Cities Program, Ara Erickson, '04, is working to restore and manage forested lands in our region's cities and suburban areas. Says Erickson, "Citizens of urban areas have always loved their forested park lands as spaces for recreation and relaxation, but are increasingly aware that they also provide many other benefits—improved air quality, decreased water runoff and stream temperatures, cooling of core urban areas and higher property values. They're a significant investment that provides value to cities and residents, and people don't think about them until they're gone."
The problem, says Erickson, is that most urban forests aren't maintained. "We know that urban natural areas need ongoing maintenance and stewardship to thrive; without a massive, coordinated community effort, we could lose much of our urban forest canopy due to competition with invasive species and inadequate space for trees to regenerate. That's where CLC's Green Cities Program comes in. Through a series of public-private partnerships with municipal agencies and community volunteers, we are developing community-based stewardship programs for forested parklands and community open spaces." Current Green Cities community-based programs include the Green Kirkland, Green Tacoma, Green Redmond and Green Seattle Partnerships.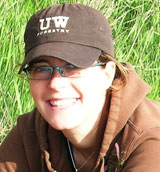 Ara Erickson
After getting her master's degree from CFR in 2004, Erickson worked as a research consultant for the college on projects with the Rural Technology Initiative, the Northwest Environmental Forum, and on academic accreditation reviews. She was one of the authors of the Washington Forest Futures study, funded by the Washington State Legislature to research the state's timber supply, industry competitiveness and the impacts of forestland losses to development pressures. She also helped coordinate a joint UWCFR-WSU Extension-King County project, the Summer Youth Forestry Institute, in which high school students set up forest survey plots in rural King County and learned about forest ecology, forestry and natural resource management. They also entered data and ran treatment simulations using CFR's Landscape Management System.
Erickson says her UW education has given her tools to promote the sustainability of our region's natural resources and environmental services. "My time at CFR provided me with the perfect balance of technical skills related to urban forestry and managing natural resources, as well as how to approach complex environmental and social challenges. Being both a student and a staff member, I was able to explore how we best integrate people and communities into the scientific process and natural resource management." Erickson stays in touch with the college through her membership in the College of Forest Resources Alumni Association (CFRAA), where she serves as vice president, working closely with President Tom Hanson, '71.