Construction for Change: Nonprofit with a CM Foundation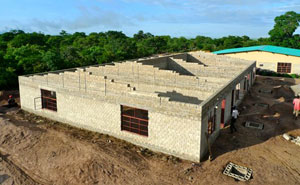 CfC's second school in Zambia is well under construction.
Construction for Change, the Seattle-based nonprofit established in 2007 by three Construction Management alumni—Nick Tosti (BS '06), Mike McEvoy (BS '06) and Elijah Grindstaff (BS '06)—was highlighted in a Seattle Times article earlier this year.
Believing it their duty to take the resources and blessings they have at home and use them for good, the three co-founders developed a way to connect small international nonprofits with affluent people in the Northwest looking to donate and volunteer.
The organization's goals are to provide construction managers for special projects around the world and to give financial support to help impoverished nations learn to help themselves. Just three years old, Construction for Change has completed more than $300,000 worth of construction with projects that include public schools and housing for orphans in such far-flung locations as Brazil, Cambodia and Zambia.
Learn more about Construction for Change
Read the Seattle Times article (1/3/10)