College News
New Certificate Program in Urban Green Infrastructure
Beginning spring qarter 2010, the Department of Landscape Architecture will offer a Certificate in Urban Green Infrastructure through UW Extension. This new online, distance-learning program for professionals and citizens will allow students to discover how strengthening a city's green infrastructure network increases community health and ecological resilience. Learn more...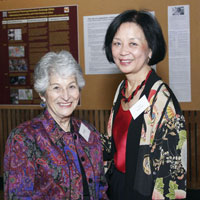 Mrs. Roz Wolfe & Provost Phyllis Wise
MUP Celebrates 50 Years
The Master of Urban Planning program celebrated its 50th anniversary Jan. 29-30 with a weekend of events that brought alumni, former faculty and friends from as far away as Hawaii and Iowa back to campus. More than 250 alumni attended NEXT CITY | NEXT 50: A Celebration in Thinking Forward, which included an informal happy hour, retrospective panel, breakout sessions with faculty and an evening hors d'oeuvres reception. Gala speakers included King County Executive Dow Constantine (MUP '92) and UW Provost and Executive Vice President Phyllis Wise. See photos from the event.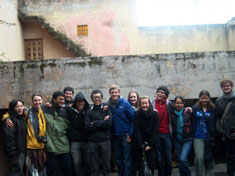 Architecture students in Mexico
Students Work to Revitalize Historic Mexican City
Ten architecture students are currently living in Mexico City, working in collaboration with 15 Mexican students from the Universidad Autonoma Metropolitana-Xochimilco. The beginning of the winter quarter program involved two weeks in and around the historic city of Merida, with site tours throughout the Yucatan Peninsula, including historic sites such as Chichen Itza, Uxmal, Oshkintok and Palenque. The program centers around a design studio that is focusing on the development of a set of alternative approaches to revitalize the historic downtown of Merida. Instructors include Robert Hutchison and Mike Pyatok from the University of Washington, and Andrea Martin and Eduardo Basurto from the Universidad Autonoma Metropolitana-Xochimilco. Numerous site tours and investigations have also been scheduled in and around the Mexico City region.
Interdisciplinary Studio Helps Jefferson Parish Plan
Fritz Wagner, a research professor in the Department of Urban Design and Planning and a former dean of the College of Urban and Public Affairs at the University of New Orleans, has secured a contract to work on a visioning planning project for a large area on the west bank of Jefferson Parish, Louisiana. Along with Professor Sharon Sutton (Architecture) and Associate Professor Daniel Winterbottom (Landscape Architecture), Wagner is working with 27 graduate students from the three departments in an interdisciplinary studio that offers a unique, collaborative opportunity to both students and faculty.
Pacific Northwest Center for Construction Research and Education Opens
With generous support from Seattle's local construction industry, the Department of Construction Management took on an ambitious project to develop a nearby research and education center at the old naval base at Sand Point. On Nov. 20, the department held an open house to thank donors for more than $2 million in contributions and to celebrate the grand opening of the Pacific Northwest Center for Construction Research and Education. Read more about the center.
AIA Seattle Diversity Roundtable Honored
The national American Institute of Architects (AIA) recently announced that it selected the AIA Seattle Diversity Roundtable as one of four honorees as part of its new Diversity Recognition Program. The roundtable's work this year included a women in architecture program held at Gould Hall, a co-sponsored gingerbread house design contest at CBE and the awarding of two scholarships that encourage diversity among CBE students. Read more in this University Week article, or visit the AIA Seattle Diversity Roundtable for more information.