Olson Kundig: Two New Projects of Note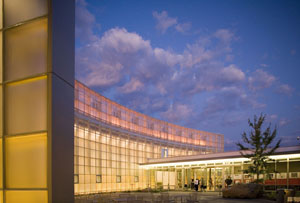 The Lightcatcher at the Whatcom Museum *
Jim Olson (BArch '63) designed Lightcatcher, the striking new addition to the Whatcom Museum in Bellingham that opened to the public last November.
Lightcatcher is named for its focal point and most innovative feature—a translucent wall 37 feet high and 180 feet long that captures the Northwest's most precious natural resource, sunlight. The building utilizes natural materials endemic to the region and will be the first museum in Washington designed and registered to LEED Silver-Level specifications.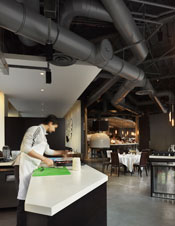 MistralKitchen comes alive **
Seattle Metropolitan magazine featured Tom Kundig's (BA Environmental Design '77; MArch '81) MistralKitchen project in its December 2009 issue. Collaborating with William Belickis, chef and owner of MistralKitchen, Tom's goal for the design of the haute cuisine restaurant was that it never dominate or distract from the award-winning chef's food or the guests' dining experience in the 5,000 square foot triangular space located in South Lake Union.
* Photo by Tim Beis
** Photo by Benjamin Benschneider