Faculty News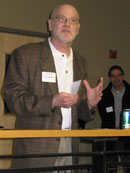 Steve Goldblatt
Goldblatt Honored at Retirement Party
The Construction Management Department celebrated 28 years of excellence in teaching and leadership by Associate Professor Steve Goldblatt, J.D., at a retirement party Jan. 22 at the Pacific Northwest Center for Construction Research and Education. Goldblatt came to the UW in 1982, where he taught design and construction law as well as construction labor law and policy in the CM Department. He also held adjunct appointments in the departments of Architecture and Civil and Environmental Engineering.
A prolific author, Goldblatt edited the 1991 Wiley Construction Law Update and was president of the Associated Schools of Construction (1989-90) after six years as founding editor of ASC's Construction Education Chronicle. The former CM department chair (1982-91) and CBE associate dean for external affairs (2002-04) was adviser to the University's executive vice president and attorney general's division. Goldblatt was active in the faculty senate for his entire career, chairing and serving on various committees. He mediated and arbitrated many Northwest construction disputes and served on many dispute review boards in Washington state.
Oshima Book Earns Design Award
Associate Professor Ken Tadashi Oshima's new book, International Architecture in Interwar Japan: Constructing 'Kokusai Kenchiku,' (University of Washington Press, January 2010) was honored in January with a design award in the Scholarly Typographic category by the Association of American University Presses. See all winners.
Tracing the interconnections between architects from Japan, Europe and America and their work during the period between world wars, Oshima reverses the trend of previous scholarship that has tended to isolate the Japanese work from architecture in the European-American sphere of influence. Read more. Oshima's other recent publications include essays in Travel, Space, Architecture (Ashgate, 2009), The Oxford Companion to Architecture (Oxford, 2009) and Hitoshi Abe On-The-Spot (Michigan, 2009).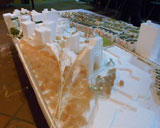 Habitat.City model
Hou Leads 'Habitat.City' Workshop in Taiwan
In December, Landscape Architecture Chair and Associate Professor Jeff Hou led a five-day international design workshop hosted by the Department of Architecture at Tamkang University in Taipei, Taiwan. Conceived by Hou and titled "Habitat.City," the workshop explored the remaking of cities as a co-living habitat for wildlife, human and other ecosystem processes, as well as an integrated and transgressive approach that links architecture and landscape architecture.
Freitag and Westerlund Publish Book on Floodplain Management
Bob Freitag, executive director of the Cascadia Regional Earthquake Workgroup and director of CBE's Institute for Hazards Mitigation and Planning, and Associate Professor Frank Westerlund have co-authored a book on floodplain management with Susan Bolton and J.L.S. Clark. Floodplain Management: A New Approach for a New Era (Island Press, September 2009) outlines a new paradigm for flood management, one that emphasizes cost-effective, long-term success by integrating physical and biological systems with our societal capabilities. Learn more.

Wagner to Co-Edit Livable Communities Book
Fritz Wagner, research professor in the Department of Urban Design and Planning, is co-editing a book on livable communities with Roger Caves from San Diego State University. A number of esteemed professors from the planning field have developed chapters for the book, which is slated for publication in 2011. Wagner was also invited by the editor of Planning, the official publication of the American Planning Association, to write a short article on New Orleans and the recovery efforts to date; it appeared as a Viewpoint article in the January 2010 issue.
Way Lectures, Publishes on Landscape Architecture Pioneers & Preservation Challenge
Assistant Professor Thaisa Way lectured on the history of women in landscape architecture at the University of Virginia, the University of Maryland and Chatham University last fall. She also spoke at the New York Botanical Garden as part of a conference on pioneers in landscape architecture sponsored by The Cultural Landscape Foundation. Way's recent publications include a contribution to an issue of Landscape Architecture CHINA featuring women in contemporary practice and an article in the second volume of the Journal of Preservation Education and Research that focused on the challenges of "preserving" wild landscapes designed in the early 20th century.