Message from the Dean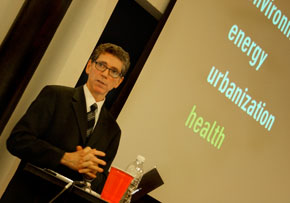 Dean Friedman
Dear alumni and friends,
The Built Environments agenda calls for sustained intensification of interdisciplinary enterprise in response to complex grand challenge problems, in particular climate change, energy and urbanization. Equally important is the way we continue to adapt and implement emerging digital technology in support of our academic and professional missions. Last year's economic downturn and its continuing consequences further amplify the importance of rapid orientation to changing conditions. I'm pleased to offer this brief report highlighting a few of the activities and accomplishments of our diverse and fully engaged faculty.
Professor and Urban Ecology Research Lab director Marina Alberti is leading multiple projects that study and model interactions between socioeconomic forces and terrestrial ecosystems in urbanizing environments. Supported by grants from the Bullitt Foundation, UERL recently has been measuring carbon stocks on an urban-to-rural gradient in an effort to more deeply understand the mechanistic causes of change in the urban carbon cycle.
Assistant Professor Rob Corser is investigating design and digital fabrication strategies for scrap wood materials, including various approaches that digitally optimize structural shapes and produce parametrically flexible formwork for thin-shell wood structures. Related projects include work for the central Washington town of Twisp, where his fall design/build studio developed production concepts for a prefabricated "greener house" that offers its owners greater material and thermal efficiencies and greater year-round programming flexibility.
Following last fall's opening of the Pacific Northwest Center for Construction Research and Education at Sand Point, Assistant Professor Carrie Dossick and Professor Eddy Rojas have successfully launched the Department of Construction Management's new state-of-the-art collaboration suites and its virtual construction lab, which features a multiprojector, 40-foot-wide display screen system. Using interactive digital tools to visualize and modify simulated construction processes in an immersive environment, CM students can now model processes and techniques that promise to increase efficiency, reduce construction errors and save time.
Assistant Professor Ken Yocom and Assistant Professor Ben Spencer are collaborating on a long-term comparative study of green roof performance in the Puget Lowlands, measuring hydrologic performance for detaining storm water and native plant survivability and proliferation. Working with Professor Marina Alberti, Yocom received a grant from the United Nations Habitat Program and the International Urban Training Center, Republic of Korea, to produce a training manual for mid-level government agency employees in developing nations in the Asian-Pacific region, designed to implement mitigation protocols and develop strategies for climate change adaptation in low-lying, coastal urban centers.
I'll return to this column later in the year with more news, reports and updates on exemplary contributions by our faculty and students. Meanwhile, if you're in our neighborhood or near Gould Hall, please drop by for a coffee. I'd greatly welcome your advice and perspective.

Daniel S. Friedman, Ph.D., FAIA
Dean
* Photo by Hanbury Evans Wright Vlattas + Company