In the Spotlight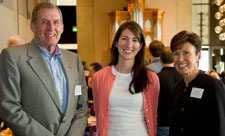 The Runstads: Jon, left and Judy, right; with Katlin Jackson, Runstad Endowed Fellowship recipient.
Runstads Receive Gates Volunteer Service Award
Jon Runstad (B.S., B.A., '65) and his wife, Judy (J.D., '74), are the recipients of the 2009 Gates Volunteer Service Award in recognition of their volunteer efforts on behalf of the University of Washington. The Runstads have been generous supporters of the College of Built Environments since 2000, when they made a $1 million pledge to support a comprehensive new real estate program in the college. Recognizing the importance of their commitment, the existing Center for Community Development and Real Estate was renamed the Runstad Center for Real Estate Studies. Read more about this year's GVSA award.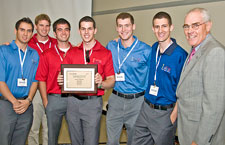 The CM team
CM Team Wins Green Energy Challenge
A team of six construction management students (Joseph Berger, Kyle Hughes, Scott McIntyre, Robert Radulescu, Matthew Tong and Ted Wegrich,) claimed the national championship in the first annual Green Energy Challenge sponsored by the National Electrical Contractors Association (NECA). The Green Energy Challenge invited student chapters from around the country to conduct an energy audit for a local K-12 school and develop a proposal for an energy retrofit. The student team selected Seattle's Wedgwood Elementary because of the local community council's commitment to sustainability. Based on the students' assessment of the existing conditions, they developed a customized 150-page technical proposal for energy retrofits, which was submitted to NECA for evaluation. Selected as one of the three finalists, the team competed against teams from Oregon State and Penn State in oral presentations at the NECA National Convention this past September, and won first place. Read more about the UW team's win.