Faculty Publications
New Publication Surveys the Work of Arata Isozaki
Department of Architecture Associate Professor Ken Tadashi Oshima co-edited Arata Isozaki (Phaidon, 2009), a comprehensive survey of the work of one of the most important Japanese architects working today. Isozaki's designs blend an Eastern architectural style with emerging global trends, and his theories have been important in bringing Western architecture to Japan. Oshima's introductory essays are featured in each chapter, along with theoretical texts by Isozaki, most published here for the first time. Learn more.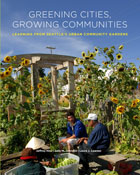 Landscape Architecture Faculty Co-Author Gardens Book
Associate Professors Jeff Hou and Julie Johnson recently celebrated the publication of their new book, Greening Cities, Growing Communities: Learning from Seattle's Urban Community Gardens (University of Washington Press 2009). Co-authored with Laura Lawson, the book is co-published by the Landscape Architecture Foundation as a part of its "Land and Community Design Case Study Series." Only Seattle and a few other cities include community gardens in their urban development plans. Although aspects of these programs are unique to Seattle, they offer insights and lessons for other cities and communities. Learn more.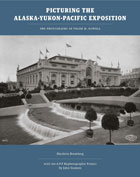 John Stamets Helps Picture A-Y-P Exposition for Centennial
As part of the 100th anniversary celebration of the A-Y-P, John Stamets, renowned lecturer in photography in the Department of Architecture, organized and led UW students in a project to rephotograph key sites of the Alaska-Yukon-Pacific Exposition as part of the A-Y-P's 100th anniversary celebration. Stamets' project is included in Nicolette Bromberg's new book, Picturing the Alaska-Yukon-Pacific Exposition: The Photographs of Frank H. Nowell (University of Washington Press, 2009). Learn more.


Glenn Murcutt's UW Master Studios and Lectures
For five years, internationally acclaimed Australian architect Glenn Murcutt, the Callison Distinguished Visiting Professor in Architecture, taught a series of master studios for graduate architecture students. Jim Nicholls, senior lecturer in the Department of Architecture, has combined examples of the students' studio work, which show how Murcutt's fundamental principles are applied to the Northwest environment, with edited transcripts of Murcutt's public lectures and sessions with students and faculty that present a multifaceted portrait of Murcutt as a teacher. Learn more.

The Miller/Hull Partnership: Public Works
The public works designed by The Miller/Hull Partnership, co-founded by David E. Miller, FAIA, chair of the Department of Architecture, are featured in this 2009 publication by Princeton Architectural Press. Projects highlighted in the book include the South Lake Union Discovery Center, Fisher Pavilion at Seattle Center and the Pierce County Environmental Services Building. Learn more.