College News
Real Estate Degree Program Kicks Off
CBE proudly welcomed 17 students into the first class in the Master of Science in Real Estate degree program this fall. Housed in the Runstad Center for Real Estate Studies and the Department of Urban Design and Planning, this new, two-year program will prepare students for successful careers and leadership roles in the 21st-century real estate industry. Get more information about the MSRE program.
New Certificate Program in Digital Design and Fabrication
In partnership with CBE's Department of Architecture, UW Extension has introduced a new certificate program in "Digital Design and Fabrication for Architecture and Design" aimed at professionals in the A/E/C industry. Kimo Griggs and Rob Corser, both assistant professors in the department, are the instructors. Learn more.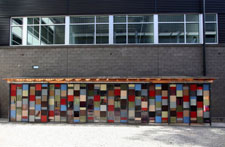 Completed structure at WFS*
D/B Studio Creates Safe Play Area for Kids
Wellspring Family Services (WFS) and Weinstein A|U project architect Rumi Takahashi (MArch, MUP '99) asked students in the spring 2009 Howard S. Wright Neighborhood Design/Build Studio to design and construct a courtyard playhouse/storage area and living fence for WFS's new home at 23rd Avenue and Rainier Avenue South in Seattle. The hitch? Extremely limited access to the job site. Read how this design team of sixteen undergraduate and graduate students met the challenge and helped create a safe play area for homeless children in the Rainier Valley.
HiPerPod Program Receives USGBC Incentive Grant
The HiPerPod: Zero Energy Classroom program led by Rob Pena, an associate professor in the Department of Architecture, received a 2009 Excellence in Green Building Education Incentive Grant from the U.S. Green Building Council. The Incentive Grants provide monetary support of $10,000 each for schools or organizations to develop new green building curricula. HighPerPod is a design-build-test program aimed at creating a high-performance, net-zero energy modular classroom suited to the Puget Sound region. The program is a one-year repeatable cycle of courses that will culminate with the construction of a modular classroom prototype, which will then be used as a design studio by students who will monitor and evaluate its performance while developing the next round of design proposals. Learn more about the 2009 Excellence in Green Building Education Awards.
CBE Co-Sponsors Design for Livability Forum
The American Institute of Architects Seattle, the Cascade Land Conservancy, and the College of Built Environments co-sponsored the second annual Design for Livability forum Oct. 15-16 on the UW campus. This year's forum, entitled "Design for Livability: Sustainable Cities," brought many of the region's planning, design, development, civic leaders and advocates together for a series of presentations on how to build more livable, healthy communities in the face of pressing environmental and economic challenges. Get more information about this year's forum.
UDP Participates in $300K Community Food Project Grant
The Department of Urban Design and Planning is one of the partner organizations in the Seattle Community Farm and Good Food Project. The U.S. Department of Agriculture notified the City of Seattle in mid-July that it had been awarded a three-year, $300,000 grant to implement the project, which is one of the elements of the Local Food Action initiative. Community-based organizations will receive all the funding, with the City providing an in-kind match. The project, which will focus its efforts in the Rainier Valley, Central Area and Delridge neighborhoods, will begin this year, with an urban farm and other components under way by spring 2010. Read more about the project.
* Photo courtesy of Magdalena Celinska