Awards and Honors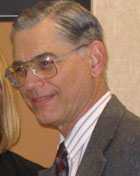 John Schaufelberger
Schaufelberger Receives Multiple Honors
Construction Management Chair John Schaufelberger was presented with the Brian D. Dunfield Educational Service Award by the Association for the Advancement of Cost Engineering International at its annual meeting in June. Schaufelberger received the award in recognition of his teaching and writing contributions to the profession of cost engineering. In July, Shaufelberger was elected to the National Academy of Construction, one of only 10 new inductees this year from across the nation. He was selected for his contributions to construction education and to the construction industry.
Winterbottom Honored by ASLA; Program Documentary on YouTube
Daniel Winterbottom, ASLA, associate professor in the Department of Landscape Architecture, received the 2009 Community Service Award from the American Society of Landscape Architects (ASLA). This national award recognizes "sustained pro bono service to the community demonstrating sound principles or values of landscape architecture." In addition, the "Guatemala Garden of Hope," a student-driven, design/build project that Winterbottom coordinated, was one of six projects featured in the "Green Communities" exhibition at the National Building Museum in Washington, D.C. A video documenting the work of the Landscape Architecture International Design/Build program was recently released on YouTube. Watch the video.
MArch Students Win EGB Boston Competition
A team of four Master of Architecture students—Megan Groth, Jennifer Richter, Heather Ruszcyk and Joe Swain—collectively known as Estudio Monstruo Verde, won first place in the Emerging Green Builders (EGB) of Boston 2009 Natural Talent Design Competition. The competition involved designing a master plan for an intersection in Roxbury, Mass., as well as designing a portion of the neighborhood in greater detail. The team received a cash award of $1,000 and passes to Greenbuild 2009 in Phoenix, where they will compete against 23 other EGB regional teams for the $5,000 national prize. Associate Professor Rob Pena was the students' mentor. Read more about their winning submission.