Alumni News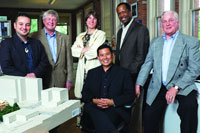 Members of Rolluda Architects *
Rolluda Architects Design New UW Ethnic Cultural Center
Seattle-based Rolluda Architects will design and manage the rebuilding of a new Ethnic Cultural Center (ECC) for the University of Washington. Three members of the project team, founding principal Alex Rolluda (BArch '85, MArch'89); project manager Sam Cameron (MArch '75); and intern architect Sam McPhetres (MArch '07) are all Department of Architecture alumni and former ECC students.
UW's vice president for minority affairs and vice provost for diversity, Sheila Edwards Lange, believes that the architects' personal experience will strongly inform their work on this project. "They understand firsthand the significance that the building has in contributing to the recruitment and retention of students of color," she said in a recent Viewpoints magazine article. Learn more about the project.
OSKA Founder's Work Shines in Houses
Jim Olson Houses, a comprehensive collection of 16 residential projects built over the last 10 years by Jim Olson (BArch '63), founding partner of Olson Sundberg Kundig Allen Architects, represents the holistic approach that has guided Jim throughout his career. This new book reveals the mastery of an architect and his subtle understanding of the world around him. Learn more about the book.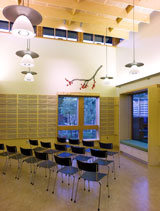 Inside the Magnolia Branch Library's new meeting room
Library Design Earns Accolades for SHKS Architects
SHKS Architects' design for Seattle's Magnolia Branch Library renovation and addition received a citation from the AIA Washington Council Civic Design Awards program and an award for the Stewardship of Public Buildings from Historic Seattle. Affiliate Assistant Professor David Strauss (MArch '85), led the design team with Jonathan Hartung (MArch '85), Tristin Pagenkopf (BA '91), Chris Armes (MArch '02), and Bryan Cooper (MArch '01). The landscape architect was Swift & Company: Barbara Swift (BLA '77), Caitlin Evan, and Liz Browning (MLA '05).
The original library, a registered Seattle landmark, was completed in 1964 from a design by Paul Kirk (BArch '37) with Richard Haag, landscape architect and CBE professor emeritus.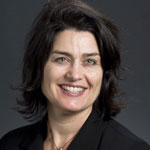 Barbara Deutsch
Landscape Architecture Foundation Names Deutsch New Head
Barbara Deutsch, ASLA (MLA '97), became the new executive director of the Landscape Architecture Foundation (LAF), in April 2009. A landscape architect whose work focuses on re-greening cities, Barbara was senior director of the Washington, D.C.-based Casey Trees Endowment Fund from its founding in 2001 until 2007, when she accepted a Loeb Fellowship at the Harvard Graduate School of Design. She has testified at hearings in D.C. on land use, storm water management, tree cover and green infrastructure. Her current work as a consultant with BioRegional's One Planet Communities program in Washington, D.C. focuses on sustainability plans and strategies for a variety of international programs.
Schemata Workshop Wins Small Business Award
The Seattle architecture firm Schemata Workshop, co-founded by Grace Kim, AIA (MArch '06), is a 2009 Mayor's Small Business Award winner. Awarded annually to 10 small businesses as a special recognition for their accomplishments, the award also honors the diversity and excellence of Seattle's small businesses and their contribution to the city's economic vitality and quality of life.

Alissa Rupp
Alissa Rupp Becomes Portico Group Principal
Alissa Rupp, AIA, LEED AP (MArch '96) has been promoted to principal of The Portico Group, an interdisciplinary firm based in Seattle. With the firm for the past 11 years, Alissa's recent work includes project oversight for the replacement of the USS Arizona Memorial Visitor Center at Pearl Harbor in Hawaii, and exhibit design leadership for Hands On Children's Museum in Olympia, Wash.
Lawrence Kreisman Premieres Exhibit at MOHAI
Lawrence Kreisman (MArch '80) was co-curator of The Arts and Crafts Movement in the Pacific Northwest, an exhibit that premiered last May at Seattle's Museum of History and Industry (MOHAI). Focusing on the exceptional work from the Arts and Crafts Movement in Washington and Oregon during the first quarter of the 20th century, the exhibit featured more than 100 objects drawn from public and private collections. The exhibit was based on the critically acclaimed book of the same name by Kreisman and co-author Glenn Mason (Timber Press, Portland, 2007).
UW Nuclear Reactor Building on National Historic Register
Once the campus location of a working nuclear reactor used to train engineering students, the UW's Nuclear Reactor Building (aka More Hall Annex) escaped demolition in 2008 through a student-led nomination effort spearheaded by then-graduate student Abby Martin (MArch'08). The structure was officially listed on the National Register of Historic Places this past October. A collaborative design effort by a multidisciplinary group that included the highly regarded Northwest modern architects Wendell Lovett (BArch '47), Gene Zema (BArch '50), and Daniel Streissguth (BArch '48), the 1960s-era reactor building is considered unusual because its design provided public viewing of the "secretive" nuclear process.
Robert Hutchison Is 2010 U.S./Japan Creative Artist Fellow
The Japan-U.S. Friendship Commission (JUSFC) selected Robert Hutchsion (MArch '96), a principal in the Seattle-based firm Hutchison & Maul Architecture, as one of five 2010 U.S./Japan Creative Artist Fellows. The annual program, co-sponsored by the National Endowment for the Arts, sends leading contemporary and traditional artists from the U.S. to spend five months in Japan with the purpose of providing an opportunity to promote cultural understanding between the United States and Japan.
Rocky Piro Gets 2008 Wolfe Award
Rocky Piro (Ph.D. '93) received the 2008 Myer Wolfe Excellence in Urban Planning Award in Washington State as recognition, in part, for his leadership in developing VISION 2040, the region's new long-range growth strategy. A member of the Puget Sound Regional Council's growth management planning team for 16 years, Piro is first vice-president of the Regional and Intergovernmental Planning Division of the American Planning Association and immediate past president of the Planning Commission for the City of Shoreline, Wash.
* Photo by Karen Orders