College News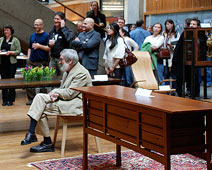 Andy Vanags at Furniture Fest.
Showcasing 20 Years of Vanags' Studios
"Furniture Fest," a retrospective celebrating a tradition of materials and craft with retiring Architecture Senior Lecturer Andris (Andy) Vanags, took place April 11 and 13 in Gould Hall. The exhibit showcased 35 student projects from more than 400 works that were constructed during 20 years of furniture studios taught by Vanags at CBE. Student furniture projects have won nearly 50 awards in regional and national competitions since Vanags offered the first Architecture furniture studio in 1988.
Vanags began teaching at the UW in the School of Art before completing his B.A. in fine arts in 1968. He offered his first course in Architecture in 1969, the same year he became supervisor of the Department's shop facilities in the Architecture Hall annex. He was instrumental in planning the Gould Hall shop that opened in 1972. In addition to the furniture studio, Vanags taught "Materials and Processes" for 35 years, led design/build studios with Barry Onouye for nine years and, in 1983, created the "Technological Foundations" Studio (aka "stick studio") that continues today.
New AIA Seattle Program to Honor Urban Housing
Rick Mohler, associate professor of Architecture and principal of Adams Mohler Ghillino Architects, and Seattle architect Tom Maul, '96 MArch, principal of Hutchison & Maul Architecture, are co-chairs of "Future Shack," a new American Institute of Architects (AIA) Seattle residential design program that will recognize innovative and progressive examples of urban housing within Washington state.
Recognized projects will be honored on Sept. 13 at a kick-off for Seattle's Reinvention 2009 conference (exploring how architects are redefining the scope, capacity and relevance of their practices in the new economy). Winning projects will also be published in The Seattle Times' Pacific Northwest magazine on Sept. 13 and discussed in an open public forum moderated by Steve Sher, host of KUOW's Weekday program.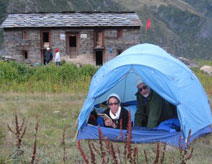 Last year's India travel program participants camped in the Johar Valley.
India Travel Program to Study Rural Tourism
Urban Design and Planning Assistant Professor Manish Chalana will lead an interdisciplinary group of students in fall quarter 2009 to Uttrakhand, a small state in India that borders Tibet and Nepal. Students will study a community-based tourism program initiated by women-run households in Sarmoli Village. Participants will live with families in the village and use ethnographic field methods to understand the workings of the existing program and explore ways in which it could be expanded to other villages. The project will include micro finance and cultural heritage preservation and is conceived as a multi-year endeavor involving participation from organizations (including NGOs) and institutions in India as well as students and faculty from the UW.
In August 2008, Chalana led a similar study abroad program that involved faculty from the Evans School of Public Affairs (Daniel Carlson) and the School of Public Health (Sheri Reder). The participating students came from a variety of disciplines including architecture, anthropology, biology, community environment and planning, landscape architecture, public health, urban design and planning and women's studies. The primary focus of the program was to conduct a reconnaissance of Johar Valley (a remote mountainous area) using Rapid Rural Assessment (RRA) methods focusing primarily on four themes: ecology and environment, built environment, public health, and community economic development.
During the first week of the program the team spent time getting to know the regions by interacting with locals and experts as well as different institutions and organizations that work in the area of community development (including tourism). This field work was followed by a hike to Johar Valley to conduct a reconnaissance survey. The results of the work are published as a report, Integrated Rural Planning and Development: Johar Valley, Uttrakhand, India.
Read more about this year's seminar or download a pdf of last year's trip report.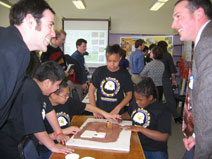 Fifth-graders take part in the charrette.

Park Charrette Brings Tacoma Community Together
Community and political leaders, regulatory staff, University of Washington Tacoma leaders, potential donors and fifth graders at McCarver Elementary School joined Landscape Architecture students in Associate Professor Iain Robertson's winter studio in a charrette that explored design ideas for a proposed park in Tacoma's Hilltop neighborhood.
Robertson's community design studio organized the combined charrette and presentation with Sheila Haase's fifth graders in an event supported by the Greater MetroParks Foundation. The charrette provided a wide array of community and business leaders, politicians, agency and school personnel, UW Tacoma leaders, local foundations and philanthropists with an opportunity to observe students working with the fifth graders on their design models for a proposed park on the school's grounds.
UW Tacoma is also interested in the studio teaching model, which combines teaching applied research and service into an integrated set of activities, as a technique for fostering greater interaction between UW Tacoma and the local community.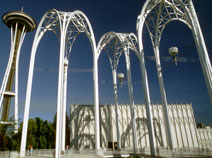 Pacific Science Center Courtyard in Seattle.
Students Experience Marvels of Modernism
Thanks to the generous support of the Washington Chapter of the American Society of Landscape Architects (WASLA), CBE and the Department of Landscape Architecture hosted the Marvels of Modernism traveling exhibit from April 5-9 in Gould Court.
The photographic exhibit showcased modernist landscapes with boomerang curves, reservoirs inspired by Joan Miro paintings, animated fountains, soaring roof gardens, geometric earthworks, futuristic fair grounds, and sunken and expansive plazas, all celebrated design elements that occurred during the nation's massive post-World War II development.
Marvels of Modernism, sponsored by The Cultural Landscape Foundation and the George Eastman House International Museum of Photography and Film, was designed to draw attention to these irreplaceable works by shining a spotlight on our diverse postwar garden and landscape heritage. Washington state sites included in the exhibit were Herbert Bayer's Mill Creek Canyon Earthworks in Kent, a series of mounds and excavated concentric circles that collect stormwater, and Minoru Yamasaki's Pacific Science Center Courtyard in Seattle, both photographed by Christopher Rauschenberg.
Melissa Best Hired at Runstad Center
Melissa Best has been hired as the new program manager for the Runstad Center for Real Estate Studies, Runstad Center Director George Rolfe announced. A five-year employee at the UW, she was previously at the Evans School of Public Affairs, where she was the program coordinator of Student Services.
Andy Vanags photo by Caroline Davis
India photo by Manish Chalana
Park charrette photo by Iain Robertson
Pacific Science Center photo by J. Taulman, courtesy of CBE Visual Resources Collection