Awards and Honors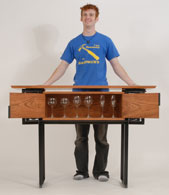 Eric Brunt & his winning design.
CBE 'Chair Affair' Winners Announced
Six College of Built Environments students received awards for their handcrafted furniture at the "Chair Affair" competition in Idaho April 24-26. This year's award winners in the annual event organized by the Interior Designers of Idaho include: Jonathan Bahe, Best Craftsmanship; Eric Brunt, Best Functional Design; and Vicky Contreras, Brooks Lockard, Anna Pepper and Kit Kollmeyer, Honorable Mention.
Learn more about "Chair Affair."

UDP Students Win National Project Award
Planning the Process: Updating Seattle's Neighborhood Plans won the American Institute of Certified Planners (AICP) Student Project Award for Applied Research. The national award from the American Planning Association was presented to students at the APA's national conference in Minneapolis last month. The students, who were enrolled in the first-year Urban Design and Planning studio taught by Assistant Professor Branden Born and affiliate faculty member Rick Sepler, collaborated with Evans School of Public Affairs students working for the city of Seattle.
Read the winning report and and those from each of the last several years.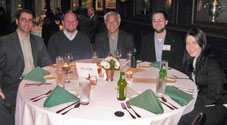 UW students placed second in a national real estate competition.

Real Estate Students Place 2nd in National Event
The Runstad Center for Real Estate Studies announced that a team of five University of Washington students won $3,000 for placing second in the REIDO (Real Estate Investment and Development Organization) Case Competition, achieving the highest national ranking ever by a UW real estate team in this event. The annual competition hosted by George Washington University took place this year on March 28 in Washington, D.C.
This year's team included three MBA students: Kevin Kirkpatrick, Jon Genka, and Matt Mellinger; and two MUP students: Kristen Link and Nate T. Hickey. Students were challenged to create a "vision" for the 28-acre Florida Avenue Market adjacent to the growing NOMA district in the nation's capital. Deliverables included an updated site plan, phasing, parking, land use density, preservation of historic structures, land entitlement and assemblage strategy, public investment, and financial proforma.

CM Students Win National ABC Competition
A team of Construction Management students won the title of Construction Management Champions in a national competition sponsored by the Associated Builders and Contractors (ABC) in Honolulu this winter. The four-student team topped 19 other teams from colleges and universities across the country.
The winning team members—Webb Miller, Morgan Mann, Tristie Tajima and Kevin Atkinson—planned a project that assessed skills in project management and scheduling, estimating and safety. The two days of competition were focused on a bids-day format, in which teams were given subcontractor bids every 15 minutes and were required to submit an overall bid with supporting materials, project management schedules and safety plans. The UW team won the project management/scheduling category, the safety category and the overall Construction Management Champions title.


MUP Students Win NAIOP 'People's Choice'
Urban Design and Planning Professor and Runstad Center for Real Estate Studies Director George Rolfe led a team of MUP interdisciplinary students to win the "People's Choice Award" in the regional NAIOP (National Association of Industrial and Office Properties) Competition held in Seattle in late March. Emily Briedenbach, Sean Haney, Jay Kipp, Lance Kollman, Katherine Lichtenstein, Marc Ramme, Paul Symington and Marcus Yamamoto created a development strategy for a Northgate property that provided an attractive investment opportunity for potential equity partners and for the city of Seattle. The team's "Gateway North–Connecting Northgate" focused on five design objectives: activate the ground level, create a mix of uses for access and synergy, connect to amenities in and around the site, build sustainability and enhance circulation.

Eric Brunt photo by Paula Anne Patterson
REIDO photo by Nate Hickey