Contact the UW Alumni Association
Got a question for the UWAA? We're here and happy to help with questions about joining the alumni association, membership status and benefits, events for grads and more. The University of Washington is a big place, so we don't have all the answers but we'll do our best to point you in the right direction.
You can contact the UWAA via e-mail, phone, fax or in person at Washington Commons. The reception area is open Monday–Friday, from 8 a.m.–5 p.m. Washington Commons will be open throughout construction of the U District Link Station on Brooklyn Ave NE. Learn more.
Mailing Address
UW Alumni Association
4333 Brooklyn Avenue NE
Seattle, WA 98195-9508
Telephone
206-543-0540 or 1-800-AUW-ALUM
Fax: 206-685-0611
E-mail: uwalumni@uw.edu
Location and Directions
Washington Commons is located in the UW Tower at 4333 Brooklyn Avenue NE, across the courtyard from the main Tower lobby. The courtyard is located a half block south of 45th Street. Once in the courtyard, you will see the entrance to the Commons on your left (when facing the fountain).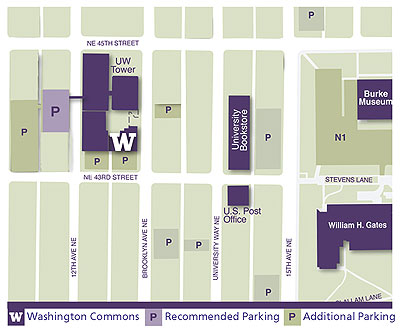 From the South: Take I-5 North to Exit 169 (NE 45th Street/NE 50th Street). Keep right at the fork in the ramp. Turn right onto NE 45th Street.
From the North: Take I-5 South to Exit 169 (NE 45th Street/NE 50th Street). Follow the exit to NE 45th Street. Turn left onto NE 45th Street.
From the East: Take SR 520 west towards Seattle. After crossing the floating bridge, take the Montlake Boulevard exit. Merge to the left. Cross the Montlake Bridge. Turn left on NE Pacific Street Take a right on 15th Avenue NE. Take a left on NE 43rd Street. Take a right onto Brooklyn.
Parking: Parking is available in the UW parking garage located at 12th Avenue NE and NE 45th Street. Follow the signs to visitor parking on the 1st and 2nd levels. Note your space number and pay at the parking machine on Level 3 near the footbridge to the Tower. Parking costs $15/day. Metered street parking is also available.
Northgate Link Extension Construction
Through 2021, construction of the U District Link station will affect foot and motor traffic around the tower. Pedestrian access to Washington Commons will remain open throughout the construction, but vehicle access and parking will be affected. Refer to the map below for details.