F&A Tab: Facility & Administrative Rates and Base
The F&A tab is where you determine the Facilities and Administrative rate for your budget.
This section is part of Step 3 of the budget creation wizard, and displays after you select Get Rate. After the setup for a budget is complete, this page can be accessed from the budget worksheet by clicking on the F&A tab. If you wish to change the F&A rate, you will need to re-select the criteria.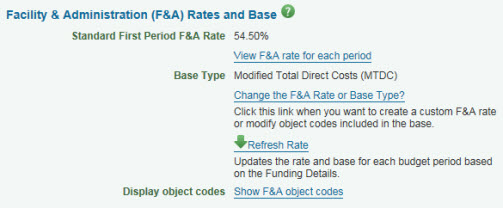 If you don't need to change the rate or base type, select Next to move to Step 4: Access.
This section displays the following values and links:
Standard First Period F&A Rate
The rate is calculated based on the start date for your first budget period and the information in the Funding Details section (sponsor/flow-through sponsor, institutional activity category, location, and specific funding mechanism).
To see the rate applied to each period of your budget, click on the View F&A Rate for each period link.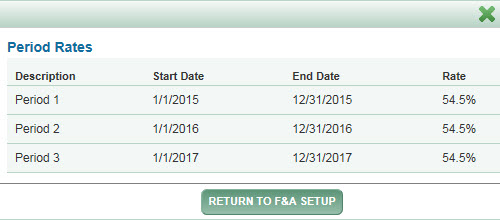 For more information on F&A rates, see GIM 13 Facilities and Administrative (F&A) Rates  and the Institutional Facts and Rates page.
Base Type
The Base Type is based on the information you provide in the Funding Details section. Possible Base Types include:
Salary and Wages (S&W)
Total Direct Cost (TDC)
Modified Total Direct Cost (MTDC)
Total Direct Cost less Equipment & Tuition (TDC less E&T)
Custom: This is a preparer-defined budget category
When you select a custom base type then you must provide a justification and identify the object codes to which the custom F&A rate should be applied. The F&A rate will be applied to these budget categories only.
Change the F&A Rate or Base Type?
Click this link when you want to create a custom F&A rate or modify the object codes included in the base type.
To use a custom F&A rate or base for your budget, you must submit a justification. Acceptance of non-standard rates is at the discretion of the Executive Director, Office of Sponsored Programs.
To learn about using custom F&A rates and base types, see F&A Tab: Custom F&A Rates and Base Types.
Refresh Rate
Click this link to update the F&A rate for all your budget periods. The start date of each budget period and the Funding Details are used to determine the F&A rate that applies to that period. Refresh Rate will overwrite any custom F&A rate information you have entered.
Display Object Codes
Click the Show F&A object codes link to view the object codes included in your F&A Base.
Note: if you are creating a custom base, see F&A Tab: Custom F&A Rates and Base Types.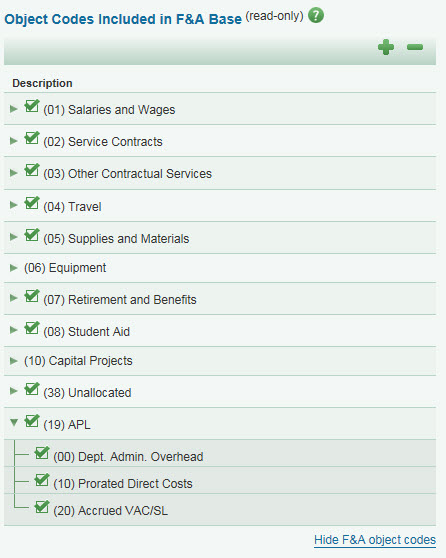 This section lists the Object Codes, and indicates which ones are included in the Facilities & Administrative Base by a green checkmark. Click on any object code description to display its sub-object codes.  Use the large, green plus (+) and minus (-) buttons to expand and contract all of the object codes.
Click on the Hide F&A object codes link at the bottom of the section to close it.
For more information, see GIM 23 Sponsored Program Costing Policy.