The Access page allows the preparer to add contacts and assign access to other users.
It is part of Step 4 in the budget creation wizard. After the setup for a budget is complete, you can access this page from the budget worksheet by selecting the Access tab.
The Access section lists all users with access to the budget, and indicates the Permission Type and Reason for the access. Read the article on SAGE Budget and eGC1 Shared Access Data if you will be linking your budget to an eGC1.
The preparer (creator) and both contacts have the permission type of Owner with the role as the reason. You cannot change or give the Owner permission type to any other users. The person designated as the PI on a budget does not have owner permission by default.
Assign a User Access
To provide other individuals with access to the budget, add them to the list.
Click the Add another user link to open the Personnel  Chooser.
Search for and select the desired person.
Select a permission type of Read Only or Read Write from the drop-down menu.

Read Only allows the user to view the contents, but not change them.
Read Write allows the user to view and edit the contents.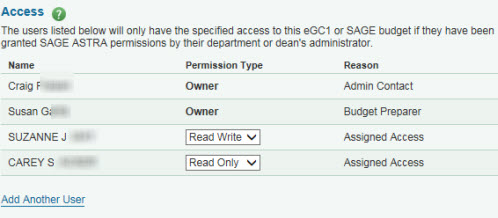 Remove a User's Access
To remove an individual from the Access list, select Remove Access from the drop-down menu and click the Save icon, or navigate to another page.
Access Permission on Copied Budgets
Note: When you copy a budget, the individuals on the access list of the original budget are copied to the new budget. The person who creates the copy becomes the Budget Preparer of the new (copied) budget. The Budget Preparer of the original will have Read-Only access to the copy.