UW Research
Associate Vice Provost for Research Computing – Jim Pfaendtner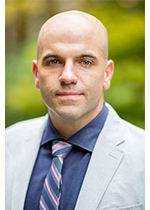 Jim Pfaendtner
Associate Vice Provost for Research Computing
jpfaendt@uw.edu
(206) 616-8128
Benson Hall 107
Box 351750
Faculty Profile
As Associate Vice Provost for Research Computing, Jim Pfaendtner oversees faculty governance of Hyak, the UW's on premises high performance supercomputer and serves as a campus champion for all types of research computing including cloud computing, on-prem, and national leadership class supercomputing. Prior to joining the Office of Research as an Associate Vice Provost for Research, he served as the chair of the Hyak governance board and was the graduate program director in the department of Chemical Engineering.
Dr. Pfaendtner received his Ph.D. in Chemical Engineering from Northwestern University and was previously a research associate at University of Utah and ETH Zürich. He joined the faculty of Chemical Engineering at UW in 2009, where currently holds the Bindra Career Development Professorship. Since 2019 he also serves the as the Department Chair and Associate Professor of Chemical Engineering. Jim is also a dual appointee at Pacific Northwest National Lab, holding the title of staff scientist. In his role as Associate Vice Provost for Research Computing, he additionally coordinates research computing activities between the UW and PNNL.
Dr. Pfaendtner continues an active research program in the area of computational molecular science. Since 2016 Jim has been the PI and director of an NSF graduate training program at the nexus of molecular science and data science and helped to develop innovative training methods for chemical and materials graduate students to apply data science to their research.