UW Research
December 6, 2021
Zipline Upgrade, December 6, 2021
System Downtime for Zipline Upgrade
An upgrade to Zipline will begin this evening at 6pm. It will take approximately 24 hours to implement this software upgrade.
The system will be unavailable during the upgrade. Researchers will not be able to:
Submit applications of any kind (new, modification, RNI, continuing review)
Respond to any requests from HSD or the IRB
Access and print approved consent forms or other documents
If there is a true emergency need for copies of any of your documents in Zipline or some other action during the downtime: Contact hsdinfo@uw.edu. This emergency capability will be extremely limited for everything except providing documents.
New Features added with the Zipline Upgrade
New Feature: Zipline Dashboard
The Dashboard has replaced the My Inbox page in Zipline. All users now default to the Dashboard after logging into Zipline. The Dashboard contains:
The 10 most recently viewed submissions;
Any submissions that you have pinned for quick access;
My Inbox, which shows submissions that require action from you or your team;
My Reviews, which is most useful for faculty advisors and IRB committee members;
The create menu, used to create new studies and reports of new information; and
Quick links, which have been shortened to IRB Home and IRB Reports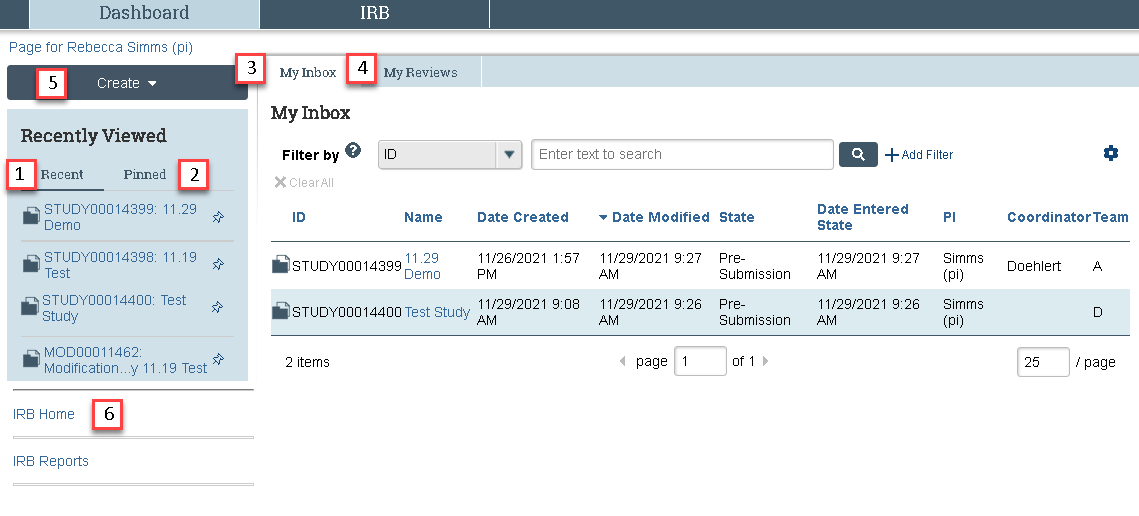 New Feature: Site Search
Site search allows you to search all of your submissions in Zipline, including documents uploaded to the SmartForms.

It is most useful when using specific search terms, such as a grant number, Zipline application number, or study drug name. Click the help icon next to the search bar for extensive search tips.
The new site search feature is available in the Submissions area in the top right portion of the screen.
Policy Changes Implemented with the Zipline Upgrade
Revised policy for principal investigators who are fellows or post-docs
Faculty advisor review is no longer required for post-docs or fellows who are listed as the principal investigator on an IRB application. Principal investigators who are students or residents still require faculty advisor approval through the ancillary review process before the IRB application can be approved or given an exempt determination.
REMINDER: IRB 101 Tutorial and New Requirement
HSD is now offering a new online tutorial called IRB 101: Get Started Fast. It is recommended for anyone new to working with the UW IRB, such as students of all levels and new study coordinators. In approximately 1 hour, this resource provides an overview of what an IRB is and what it does, how to determine if an IRB application is required, and a quick overview with practical tips for submitting IRB applications online. It is most useful for those who already have a research project in mind.
After the Zipline upgrade, students and residents who are listed as the principal investigator on an IRB application are required to take the IRB 101 tutorial and provide their training certificate with their application materials. If you are a student or resident who is the PI on an IRB application that is still being reviewed at the time of the Zipline upgrade, you will need to provide your training certificate before your application will be approved or exempt status is granted. See the HSD website for more information, including detailed information on providing training certificates to the IRB and some FAQs.
REMINDER: RNI Response Time Reduced from 60 to 30 Days
The maximum time allowed for a researcher to respond to the IRB's review of a Report of New Information (RNI) will be reduced from 60 to 30 days. This only applies to RNIs that are reviewed by the full IRB Committee AND where additional actions are requested by the IRB. Researchers will have 30 days to respond to the request in Zipline. This change will ensure that serious issues associated with a RNI (e.g., unanticipated problems, serious or continuing non-compliance) are addressed promptly.
Reformatted Protocol Forms
The IRB Protocol Forms have been reformatted with accessibility and file size in mind. There are no content changes with this update, and you are welcome to continue using the previous version if you are currently working on an application.
Updates include:
Removing all tables used for formatting
Replacing images with text
Increasing color contrast
Reducing file size and load time
HSD is committed to continually improving accessibility in our forms and processes. Please email hsdinfo@uw.edu if you have any questions.
More Information about the Upgrade
See the Upgrade Release Notes for a detailed list of changes included in the upgrade. The Upgrade Changes FAQs has information about the most impactful changes.