UW News
UW Libraries Special Collections
---
January 28, 2020
UW Notebook visits with Allee Monheim, UW Libraries public service librarian, who curates the libraries distinctive social media accounts.
---
January 9, 2020
This week in the arts, attend a film screening at SAM, visit museums on campus for free with your Husky card, and more! Guest Artist Recital: Conor Hanick, piano January 13, 7:30 pm | Brechemin Auditorium Brooklyn-based concert pianist Conor Hanick performs works of Galina Ustvolskaya and Morton Feldman on Monday evening and leads a free master class…
---
January 3, 2020
This week in the arts, attend several screenings with the 2020 Southeast Asia x Seattle Film Festival, visit museums on campus for free with your Husky card, and more! Shawn Wong & Tara Fickle January 9, 7:00 pm | The Elliott Bay Book Company Come celebrate the publication of the Third Edition of Aiiieeeee! An Anthology of Asian…
---
September 20, 2019
In the arts, attend an opening reception at the Jacob Lawrence Gallery, hear from School of Art + Art History + Design faculty, visit the Allen Library for a concert, and more! School of Art + Art History + Design Faculty Lectures Six faculty members will each give presentations during autumn quarter as part of the…
---
August 27, 2019
In the arts, purchase tickets for the New Burke Opening Weekend, attend a rare duet setting performance by two School of Music faculty members, view a selection of gowns from the Henry's collection of clothing and textiles, and more! New Burke Opening October 12th Ticket sales open on September 3rd for the New Burke Museum…
---
March 7, 2019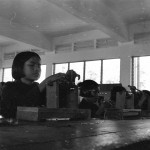 A new project by Jenna Grant, UW assistant professor of anthropology, uses an archive of photos and documents from the Khmer Rouge era — the donation of a journalist and UW alum — to help facilitate storytelling among Cambodians and Cambodian-Americans.
---
January 14, 2019
The Labor Archives of Washington, housed in UW Libraries, will celebrate the 100th anniversary of the 1919 Seattle General Strike with a series of events in coming weeks, as well as a new library exhibit on campus.
---
August 28, 2018
An exploration of UW Libraries' Labor Archives of Washington with labor archivist Conor Casey.
---
June 27, 2018
UW Libraries Special Collections has a new exhibit called "Captured in Ink: Historical Cartoons and Caricatures." The exhibit features the editorial cartoons of Howard Fisher, who worked and drew for decades for the Oregon Journal, a Portland newspaper that folded in 1982. Many other historical caricatures are included as well in the display, which stays up until October 19.
---
October 24, 2017
UW Libraries Special Collections' new exhibit, "All Over the Map: From Cartographs to (C)artifacts" — organized by UW Book Arts and Rare Book Curator Sandra Kroupa — is on display in Allen Library until Jan. 31, 2018.
---
February 3, 2017
Thousands of photos of glaciers, volcanoes, rivers and other natural phenomena are now easily viewed by the public through the University of Washington Libraries. UW Libraries' Special Collections this fall released a new Glacier and Landforms Photograph Collection. The collection is designed to provide online access to photos of glaciers, geology and related subjects. At…
---
November 9, 2016
UW Libraries will host an open house from 1 to 5 p.m. on Veterans Day, Friday, Nov. 11, in conjunction with the current World War I-themed exhibit, "Washington on the Western Front: At Home and Over There."
---
May 12, 2016
UW Libraries invites the public to tour its new state-of-the-art Conservation Center on the fifth floor of Suzzallo Library, from 3:30 to 5 p.m. Wednesday, May 26.
---
May 6, 2016
Thirty-two colorful and creative artist books on display as part of the exhibit "Just One Look," in University of Washington Libraries' Special Collections department, in Allen Library. The exhibit co-curated by UW alumna Lauren Dudley with Sandra Kroupa, UW book arts and rare book curator.
---