UW News
Department of Environmental and Occupational Health Sciences
---
December 16, 2019
Recent honors to UW faculty and staff include the new editorship of a major journal, a post with the Republic of Uganda and honors from the American College of Physicians, the Association for Computing Machinery and the Institute of Electrical and Electronics Engineers.
---
October 7, 2019
Sparked by a grant from the UW Population Health Initiative, the UW's Center for One Health Research has created a series of pop-up galleries featuring autobiographical photographs made by people experiencing homelessness with their animal companions. The first gallery was Oct. 4 in UW's Red Square. Other pop-up gallery events are 11 a.m. to 5 p.m. on Monday,…
---
September 26, 2019
The terms and conditions of your employment — including your pay, hours, schedule flexibility and job security — influence your overall health as well as your risk of being injured on the job, according to new research from the University of Washington. The analysis takes a comprehensive approach to show that the overall pattern of…
---
August 13, 2019
Air pollution—especially ozone air pollution which is increasing with climate change—accelerates the progression of emphysema of the lung, according to a new study led by the University of Washington, Columbia University and the University at Buffalo.
---
July 19, 2019
A new study found that pregnant women exposed to higher levels of air pollutants had children with lower IQs, compared to the children of women exposed to lower levels. 
---
July 16, 2019
Eight scientists and engineers from the University of Washington have been elected this year to the Washington State Academy of Sciences.
---
June 5, 2019
The planet will warm by about 3 degrees Celsius (5.4 degrees Fahrenheit) above pre-industrial levels by the end of the century if the U.S. and other nations meet only their current commitments under the Paris climate agreement to reduce emissions of heat-trapping gases. According to a paper by U.S. and U.K. scientists published in Science Advances today, accelerating ambition to reduce global warming emissions to meet the Paris Agreement's goal of limiting temperature rise to well below 2 degrees Celsius could prevent thousands of extreme heat-related deaths in cities across the U.S.
---
March 19, 2019
Sea-level rise associated with climate change is a concern for many island and coastal communities. While the dangers may seem far off for large coastal cities like Miami or New Orleans, the advancing oceans are already displacing some small indigenous communities, and many others are at risk around the world.
---
February 13, 2019
Exposure to glyphosate — the world's most widely used, broad-spectrum herbicide and the primary ingredient in the weedkiller Roundup — increases the risk of some cancers by more than 40 percent, according to new research from the University of Washington.
---
December 18, 2018
New research shows that the powerful sense of smell Pacific salmon rely on for migration, finding food and avoiding predators might be in trouble as carbon emissions continue to be absorbed by our ocean.
---
November 30, 2018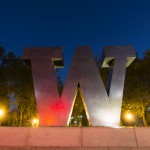 Two University of Washington researchers, Terrance Kavanagh and Jay Shendure, are among the 416 new fellows of the American Association for the Advancement of Science, announced in November.
---
January 10, 2017
Two University of Washington professors have received the 2017 Presidential Early Career Award for Scientists and Engineers, the highest honor given by the U.S. government to early career scientists and engineers.
---
April 29, 2014
Health Digest is a selection of recent news and features from the UW Health Sciences/UW Medicine.
---
May 29, 2013
Exposure to diesel exhaust undermines one of the body's protections against heart and blood vessel disease.
---
April 23, 2013
The 65 workers who died from job-related injuries or illnesses in Washington state this past year will be remembered at a UW event promoting safer workplaces.
---
February 27, 2013
People are exposed to these endocrine-disrupting chemicals even if they eat an organic diet and do not store, prepare or cook in plastic containers.
---