UW News
---
November 2, 2018
Massive wildfires, which may be getting more intense due to climate change and a long history of fire-suppression policies, have strikingly unequal effects on minority communities, a new study shows.
---
October 24, 2018
A new University of Washington initiative seeks to advance research on the health benefits of time spent in nature, connecting academic researchers with pediatricians, childcare providers, mental health practitioners and others who work with various populations on critical health issues.
---
October 23, 2018
In a 20-year study, UW researchers and colleagues have found that nearly 600,000 pounds of sockeye salmon carcasses tossed to the left side of a small, remote stream in southwest Alaska, helped trees on that side of the stream grow faster than their counterparts on the other side.
---
October 9, 2018
A new study led by the University of Washington found that while dead whales are valuable sources of fat and protein for some polar bears, this resource will likely not be enough to sustain most bear populations in the future when the Arctic becomes ice-free in summers.
---
October 8, 2018
A new analysis that uses high-resolution data for 24 ocean regions in Africa, Europe, North and South America and Australasia shows that 14 percent of the overall seafloor shallower than 1,000 meters (3,280 feet) is trawled. The paper shows that the footprint of bottom-trawl fishing on continental shelves and slopes across the world's oceans often has been substantially overestimated.
---
October 2, 2018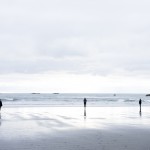 Former Interior Secretary Sally Jewell brings a lifetime of experience in business, nonprofits, government and the outdoors to the University of Washington, where one of her tasks is to help shape the future of EarthLab, a new university-wide institute that seeks to connect scholars with community partners to solve our most difficult environmental problems.
---
August 21, 2018
University of Washington researchers have found policies are shifting toward restoration projects that include input from more groups and offer a range of benefits to Puget Sound, including flood control, salmon recovery, recreation and habitat protection.
---
August 1, 2018
A team led by the University of Washington has created an environmentally friendly way to remove color from dyes in water in a matter of seconds.
---
June 14, 2018
Anchovies, herring, sardines and other forage fish play an essential role in the food web as prey for seabirds, marine mammals and larger fish like salmon. When ground into fishmeal and oil, they are also a key food source for farmed seafood and land-based livestock such as pigs and poultry. As seafood consumption outpaces the…
---
June 11, 2018
A new study led by the University of Washington considers which food type is more environmentally costly to produce: livestock, farmed seafood or wild-caught fish.
---
June 5, 2018
A new University of Washington-led paper pinpoints starvation as the cause of death for hundreds of thousands of Cassin's auklet seabirds in late 2014 to early 2015.
---
May 25, 2018
Astronauts at the International Space Station are spending more time away from Earth, but they still need their daily serving of vegetables. In the quest to find a viable way for crew to grow their own veggies while orbiting — and possibly one day on the moon or Mars — student researchers are sending broccoli…
---
April 30, 2018
A Q&A with retiring Washington Sea Grant director Penny Dalton on her drive to serve the public, and the ways in which she has helped young marine policy experts get started in the field.
---
April 25, 2018
The World Register of Marine Species has named the Mariana snailfish one of its 10 "remarkable new species" discovered in 2017. The team that discovered and named the small fish includes Mackenzie Gerringer, a postdoctoral researcher at the UW's Friday Harbor Laboratories.
---
April 3, 2018
A new trail that winds through Washington Park Arboretum is bringing to focus plants previously hidden and a stream that used to be underground in pipes and culverts. The UW together with Seattle Parks and Recreation and the Arboretum Foundation on Sunday, April 8 will celebrate the trail opening with festivities along the path.
---
March 28, 2018
A University of Washington-led project spanning countries, years and institutions has attempted to reconstruct what the southern end of the world looked like during the Triassic period, 252 to 199 million years ago.
---
February 27, 2018
The largest and oldest Chinook salmon — fish also known as "kings" and prized for their exceptional size — have mostly disappeared along the West Coast, according to a new study led by the University of Washington.
---
February 23, 2018
With snow falling in the Puget Sound region this week, it's hard to imagine cherry trees in bloom. But assuming temperatures return to normal soon, this year's cherry blossoms are on track for a typical bloom season. Full bloom is expected the week of March 19.
---
February 20, 2018
Reductions in sea ice in the Arctic have a clear impact on animals such as polar bears that rely on frozen surfaces for feeding, mating and migrating. But sea ice loss is changing Arctic habitat and affecting other species in more indirect ways, new research finds. Beluga whales that spend summers feeding in the Arctic…
---
February 8, 2018
A team of ecologists and economists is the first to test whether real-life ecological interactions produce economic benefits for the fishing industry. The results were published online Jan. 29 in the Proceedings of the National Academy of Sciences.
---
February 6, 2018
The University of Washington joins 12 other leading North American research universities in the new University Climate Change Coalition, or UC3, a group committed to leveraging its research and resources to help communities accelerate climate action.
---
January 22, 2018
University of Washington researchers have published the first major assessment of small hydropower dams around the world — including their potential for growth — and highlight the incredibly variability in how dams of varying sizes are categorized, regulated and studied.
---
January 18, 2018
More than three centuries ago, a French monk made thousands of drawings of plants and animals, traveling under the authority of King Louis XIV to the French Antilles to collect and document the natural history of the islands. These drawings were often the first ever recorded for each species and were completed in remarkable detail….
---
January 17, 2018
A small group of fishes — possibly the world's cleverest carnivorous grazers — feeds on the scales of other fish in the tropics. A team led by biologists at the University of Washington's Friday Harbor Laboratories is trying to understand these scale-feeding fish and how this odd diet influences their body evolution and behavior.
---
December 21, 2017
Now serving its sixth cohort of students, the Washington State Opportunity Scholarship has helped more than 8,400 students attend the state's universities and colleges. The UW has the largest number of scholarship recipients — 1,679 across all three campuses — and has seen more than 1,300 scholars graduate.
---
December 18, 2017
Recognizing that many large dams are here to stay, a University of Washington team is investigating an emerging solution to help achieve freshwater conservation goals by re-envisioning the ways in which water is released by dams.
---
December 13, 2017
A new NSF-funded project will use findings in the Mekong River basin as an example of how three critical issues — feeding people, generating energy and maintaining functioning ecosystems — can be addressed thoughtfully and progressively in the developing world.
---
November 28, 2017
The ocean's deepest fish doesn't look like it could survive in harsh conditions thousands of feet below the surface. Instead of giant teeth and a menacing frame, the fishes that roam in the deepest parts of the ocean are small, translucent, bereft of scales — and highly adept at living where few other organisms can….
---
November 17, 2017
A new University of Washington study points to yet another human factor that is hampering the ability of fish to reproduce: the timing of our fishing seasons. The study considers how the timing of fishing efforts might disproportionately target certain fish and change the life history patterns of entire populations.
---
November 15, 2017
A University of Washington team is trying to make poplar a viable competitor in the biofuels market by testing the production of younger poplar trees that could be harvested more frequently — after only two or three years — instead of the usual 10- to 20-year cycle.
---
November 6, 2017
A University of Washington team wants to simplify the process for discovering detrimental water leaks by developing "smart" paper that can sense the presence of water.
---
September 21, 2017
University of Washington chemistry professor Sarah Keller, whose work and teaching have been recognized internationally, will be the featured speaker at the university's 34th annual Freshman Convocation, which begins at 10:30 a.m. Sunday, Sept. 24, in the Alaska Airlines Arena at Hec Edmundson Pavilion.
---
September 14, 2017
A new study by University of Washington scientists has found that, for dozens of fish populations around the globe, old fish are greatly depleted — mainly because of fishing pressure. The paper, published online Sept. 14 in Current Biology, is the first to report that old fish are missing in many populations around the world.
---
September 13, 2017
Climate change will force many amphibians, mammals and birds to move to cooler areas outside their normal ranges, provided they can find space and a clear trajectory among our urban developments and growing cities. But what are the chances for fish to survive as climate change continues to warm waters around the world? University…
---
August 24, 2017
A $2.5 million National Science Foundation grant will daylight thousands of specimens from their museum shelves by CT scanning 20,000 vertebrates and making these data-rich, 3-D images available online to researchers, educators, students and the public. The University of Washington is a partner institution contributing most of the fish and bat scans.
---
August 21, 2017
While many people across the country donned viewing glasses and prepared to watch Monday's solar eclipse, a group of 100 teenagers from tribes across the Pacific Northwest launched balloons thousands of feet into the air, gaining a novel perspective of the eclipse — and the chance to send meaningful artifacts to the edge of space during a memorable moment in history.
---
August 14, 2017
Researchers from the University of Washington and several small companies have conducted the first large-scale experiment on a Superfund site using poplar trees fortified with a probiotic — or natural microbe — to clean up groundwater contaminated with trichloroethylene, or TCE.
---
July 24, 2017
Eleven UW students and alumni were awarded Fulbright U.S. Student Program scholarships for the 2017-18 academic year, and four have been named as alternates, joining about 1,900 students and recent graduates from around the country to study and teach abroad this coming year.
---
July 19, 2017
Donors contributed a record $562.7 million to the University of Washington in the 2017 fiscal year, breaking the previous record of $542.4 million set last year. The funds, secured through the University's most ambitious philanthropic campaign in history, came in the form of private gifts and grants for student scholarships, faculty support, research projects and interdisciplinary programs.
---
June 1, 2017
Researchers from the University of Washington and Smithsonian Institution have reported the first observed case of lionfish preying upon a fish species that had not yet been named. Their results, published May 25 in PLOS ONE, may indicate an uncertain future for other fish found in the largely unexplored deep-ocean coral reefs.
---
Previous page
Next page