UW News
---
June 24, 2019
Research shows that LGBTQ older adults are at higher risk for social isolation. To that end, UW social work professor Karen Fredriksen Goldsen helped establish an LGBTQ senior center in Seattle.
---
June 14, 2019
More than 8,000 graduates attended the University of Washington's 144th commencement ceremonies on Saturday.
---
June 6, 2019
Uncovering the "hidden history" of two eastern Tennessee communities is the goal of Off the Map, a project with high school students led by Katie Headrick Taylor, a University of Washington assistant professor of education.
---
June 4, 2019
Experiences such as poverty, residential instability, or parental divorce or substance abuse, can affect executive function and lead to changes in a child's brain chemistry, muting the effects of stress hormones, according to a new University of Washington study.
---
May 31, 2019
Vehicle residents are a significant proportion of Seattle's unsheltered population. The University of Washington's Graham Pruss, a doctoral candidate in anthropology, has studied vehicle residency for a decade and speaks about the challenges and solutions facing this community.
---
May 29, 2019
A multicenter research team that includes the University of Washington Autism Center has received a five-year, $9.5 million grant to further evaluate whether brain imaging can help detect very high risk of autism spectrum disorder in early infancy.
---
May 13, 2019
An article by University of Washington sociology professor Alexes Harris focuses on the role of the private sector in collecting court-imposed fines and fees.
---
May 10, 2019
Early results from a faculty-led survey on the University of Washington's three campus estimate the extent of food and housing insecurity among students.
---
May 6, 2019
With reports of crimes against nursing home residents gaining media attention around the country, seven states have passed laws regulating the use of cameras in care facilities. An assistant professor in the University of Washington School of Social Work outlines the list of legal and moral issues that surveillance raises.
---
April 22, 2019
Research from the University of Washington uses functional MRI to identify two differences in the brains of blind individuals — differences that might be responsible for their abilities to make better use of auditory information.
---
April 8, 2019
For immigrants to the United States, the current political climate, and debates over issues such as a border wall, become part of the environment that influences their health, according to a new University of Washington study.
---
March 21, 2019
African-American women are nearly twice as likely to give birth prematurely as white women. Amelia Gavin, an associate professor in the University of Washington School of Social Work, connects preterm birth to racial discrimination via PTSD.
---
March 12, 2019
Students of color who attend schools with a culture and mission statements that emphasize the value of diversity show better cardiovascular health than peers whose schools do not express such values, according to a new study.
---
March 7, 2019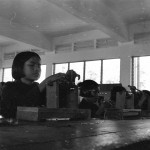 A new project by Jenna Grant, UW assistant professor of anthropology, uses an archive of photos and documents from the Khmer Rouge era — the donation of a journalist and UW alum — to help facilitate storytelling among Cambodians and Cambodian-Americans.
---
March 5, 2019
The University of Washington is launching a reading instruction study this summer, a two-week "camp" targeting children entering kindergarten in the fall that aims to teach early literacy skills and measure brain activity before and after instruction.
---
February 20, 2019
Recess, for most children, is synonymous with freedom. A break from class that has nothing to do with learning and everything to do with play. For children with autism, the playground can be an isolating experience. The spontaneous soccer games, roving packs of friends and virtual buffet of activities can be chaotic, frustrating and confusing….
---
February 6, 2019
The legalization of marijuana in Washington state in 2012 gave parents the opportunity for a new teachable moment. Many say that as society has become more permissive, they want information and advice.
---
January 29, 2019
Community impact and public health solutions are the focus of the Forefront Suicide Prevention Education Day, to be held Feb. 11 at the Washington Capitol in Olympia. Forefront, based at the UW School of Social Work, is leading the event, a series of speakers and events aimed at raising awareness, providing training and pushing for change.
---
January 28, 2019
Exposure to nature, even through a brief gardening activity, can improve well-being among women in prison, a UW Tacoma-led study finds.
---
January 22, 2019
Boeing has awarded $300,000 to Forefront Suicide Prevention and University of Washington Tacoma for work with veterans. Forefront, at the UW School of Social Work, received $205,000 to expand veteran-specific outreach, and UWT received $95,000 for career services for veterans.
---
January 15, 2019
A new University of Washington study suggests that the children most apt to socially transition to the gender "opposite" their sex at birth are those who already demonstrate the strongest "cross-gender" identities, and that the transitions don't appear to alter a child's gender identity or preferences.
---
December 17, 2018
A small study about a workshop to bring together students of different political persuasions found that workshop participants were able to better understand their fellow students as individuals, but their attitudes about opposing beliefs, in general, did not change.
---
December 12, 2018
A study by the University of Washington and Temple University examines what happens in children's brains when they anticipate a touch to the hand, and relates this brain activity to the executive functions the child demonstrates on other mental tasks.
---
December 11, 2018
A new University of Washington-led study examines one key stress-inducing circumstance — the effects of social hierarchy — and how cells respond to the hormones that are released in response to that stress.
---
November 29, 2018
Three researchers from the University of Washington Department of Psychology say existing practices overlook the importance of culture, and suggest how individuals and institutions can be more inclusive.
---
November 26, 2018
A new study from the University of Washington's Institute for Learning & Brain Sciences (I-LABS) shows that parents who learn how and why to speak "parentese" can have a direct impact on their children's vocabulary.
---
November 19, 2018
A study by an international team of researchers, including from the University of Washington, determines that carved stone tools, also known as Levallois cores, were used in Asia 80,000 to 170,000 years ago. With the find — and absent human fossils linking the tools to migrating populations — researchers believe people in Asia developed the technology independently, evidence of similar sets of skills evolving throughout different parts of the ancient world.
---
November 5, 2018
A new study of nearly 250 children and teens led by the University of Washington found that participants who had suffered abuse were developing faster than those who had not.
---
October 30, 2018
An international team of researchers, including from the University of Washington, has completed a 3D virtual reconstruction of a Neandertal thorax a model that indicates an upright individual with greater lung capacity and a straighter spine than today's modern human.
---
October 24, 2018
As the discipline of American Indian Studies approaches its 50th year at the University of Washington, a new research center is in the works: the Center for American Indian and Indigenous Studies, which is supported by multiple colleges and schools.
---
October 19, 2018
A study led by the University of Washington is the first large-scale trial of hundreds of PTSD patients, including veterans and survivors of sexual assault, to measure whether patient preference in the course of treatment impacts the effectiveness of both cognitive behavioral therapy and use of selective serotonin reuptake inhibitors, a type of antidepressant often prescribed for PTSD.
---
October 10, 2018
When Rainier Beach High School was proposed to close in 2008, community members rallied around a new vision for the school, which has since nearly doubled its enrollment and introduced a more rigorous curriculum.
---
October 4, 2018
Kristina Olson, University of Washington associate professor of psychology, has been named one of the 2018 MacArthur Fellows. The Fellowship from the John D. and Catherine T. MacArthur Foundation comes with a $625,000 stipend, commonly known as the "genius grant," for recipients to use as they see fit.
---
September 28, 2018
For more than 2 million years, the native forests on the Pacific islands of Guam and Rota were home to several thousand crows, members of a species found nowhere else on Earth. But over the last 60 years, the Mariana crow — called the Aga in the Chamorro language — has completely disappeared from…
---
September 25, 2018
A UW study found that mindfulness lessons, offered to parents at two early childhood centers, helped adults learn how to manage their emotions and behaviors while supporting their child's development.
---
September 20, 2018
A University of Washington study finds that 18-month-old toddlers conduct a form of cost-benefit analysis, making choices based on how much effort they want to expend, or on whether they like the people involved.
---
September 13, 2018
The share of Washingtonians living below the federal poverty threshold declined slightly from 11.3 percent to 11 percent between 2016 and 2017, according to new Census data released Thursday. While this change was not statistically significant, the 2017 poverty rate remains below the post-recession high of 14.1 percent in 2013. Washington was one of 28…
---
When Tony Greenwald and his colleagues developed the online Implicit Association Test two decades ago, it enjoyed quick success in the pre-laptop, pre-smartphone, nascent Internet world, with some 45,000 participants in the first month. The test, which requires classifying words and images rapidly according to their meanings, captures unconscious biases toward — depending on the…
---
August 28, 2018
A study by the University of Washington and Cornell University shows that the risk of being killed by police, relative to white men, is 3.2 to 3.5 times higher for black men, and between 1.4 and 1.7 times higher for Latino men.
---
August 21, 2018
University of Washington researchers argue that further study of why infants persist, and to what end, may shed new light on how they learn and what the future yields.
---
Previous page
Next page