Camp Waskowitz, Washington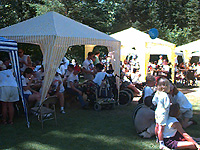 Camp Waskowitz, nestled in the foothills of the Cascades 45 minutes east of Seattle in the town of North Bend, is a special place where young people with muscular dystrophy and related neuromuscular diseases can experience fun and friendship in the outdoors.
MDA supports a nationwide network of free summer camps offering a wide range of activities especially designed for campers with limited mobility. These include swimming, arts and crafts, talent shows, dances, soccer, baseball, campouts, sing alongs, fishing, and other outdoor sports.
Each day is filled with exciting and fun things to do that give campers an opportunity to develop new friendships, share interests, build self-confidence, and create memories that will last a lifetime.
DO-IT offered basic email and Internet sessions for all campers. Those who especially enjoyed computing, worked in a team with a DO-IT Mentor to put the camp activities online in a camp web page. Older campers could choose to attend a college transition event.
Explore camper links to experience some of the online activities enjoyed by campers.
Contact Information
Muscular Dystrophy Summer Camp
Muscular Dystrophy Association
633 North Mildred Street #D
Tacoma, WA 98406
253-627-7575
tacoma@mdausa.org