Camp Harmon, California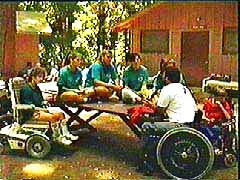 Camp Harmon is for young people with a variety of disabilities. It plays the same role as most summer camps: to get away and have fun, but campers can also be with and learn about other people with disabilities.
Camp Harmon is set in the beauty of the Redwood forest near San Francisco and is accredited by the American Camping Association. The campers at Camp Harmon enjoy many activities such as arts and crafts, swimming, archery, hiking, and horseback riding.
For several years DO-IT offered Internet activities in a high-tech computer lab that were educational and fun. Explore camper links to experience some of the online activities enjoyed by campers.
Contact Information
Easter Seals Central California
16403 Highway 9
Boulder Creek, CA 95006
831-338-3383
campharmon@es-cc.org