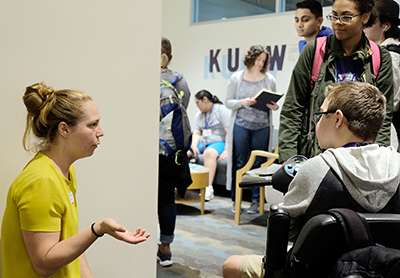 Employment Program for Students with Disabilities
The Workforce Recruitment Program (WRP) Recruiter will be interviewing students from your school this fall!
WRP serves as a primary pipeline for bringing new talent into the federal government. WRP is open to students and recent graduates with disabilities. Participating in the WRP is an excellent way to
Find an internship or permanent position at federal agencies,
Explore careers in the federal service, and
Gain interviewing experience.
Registration is open now and must be completed by October 11, 2019 at wrp.gov.
For more information visit The Workforce Recruitment Program or contact UW campus coordinator Tami Tidwell at tamitha@uw.edu. Open to students from all three UW campuses
The UW Career & Internship Center
The Career & Internship Centers on each UW campus help students learn about majors, careers, and the labor market. Career counselors are available to help with resume development and improving interview skills. Visit the Seattle website.
UW Career & Internship Centers utilize the web-based system HuskyJobs to manage job and internship listings. Find out more about featured jobs and internships at Career & Internship Center Jobs Page.
The Career & Internship Center website has a resources section with information specific to people with disabilities. It can be accessed by visiting Careers Resource Page and utilizing the "Students With Disabilities" filter.
Career Fairs
Thursday, October 10, 2:00 – 6:00 pm
Location: HUB Ballrooms, Seattle Campus
Wednesday, October 16, 10:30 am – 2:00 pm
Location: ARC 2nd Floor, Bothell Campus
Thursday, October 17, 11:00 am – 2:00 pm
Location: University Y Student Center, Tacoma Campus
Monday, October 21, 6:00 – 7:30 pm
Location: HUB South Ballroom, Seattle Campus
Thursday, October 24, 2:00 – 6:00 pm
Location: HUB Ballrooms, Seattle Campus
Wednesday, January 29, 5:30 – 8:00 pm
Location: HUB Ballrooms, Seattle Campus