Hawking reminisces with disabled students
"I didn't die," famed physicist says about predicted demise
The following article appeared in the July 2, 1993, issue of the Seattle Post-Intelligencer. Copyright 1993, Seattle Post-Intelligencer. Reprinted with permission.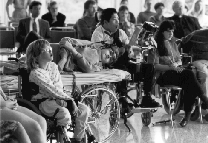 Students Aleysa Reed, Mitch Weddle, Waikin Chiu, and Anna Schneider were among the students who met Stephen Hawking yesterday. Photo by Robert De Giulio/P-I
Stephen Hawking, the famous theoretical physicist widely recognized for his work on black holes and most recently for his role playing himself on television's Star Trek, yesterday met with disabled students in Seattle.
Hawking told about 25 students gathered at Seattle University of his own disability, how he refused to let it hinder him and how the knowledge of his growing physical limitations only sharpened his interest in the world. He was in town to speak at the first evening of a science lecture series.
Hawking, 51, was told 30 years ago, when he was a not-very-remarkable college student, that he had ALS, amyotrophic lateral sclerosis. The progressive and degenerative nerve disease primarily affects the muscles and has today rendered him incapable of speech or much independent movement.
"Before my condition was diagnosed, I had been very bored with life," he said, speaking from his wheelchair through a computerized voice synthesizer.
The world-renowned cosmologist and author of A Brief History of Time spoke yesterday evening on "Black Holes and Baby Universes" at the Seattle Opera House. The talk, which is also the title of his next book and an argument against the standard Big Bang theory, was the first in a series co-sponsored by Microsoft, KCTS, the nonprofit Institute for Science, Engineering and Public Policy and Seattle University.
Hawking told the students that doctors had predicted decades ago that he had only a few years to live, based on the typical rapid progression of the disease. As a result, he became more determined to get the most from a life he had previously taken for granted.
"I didn't die," Hawking noted.
Instead, as his condition worsened, his reputation in scientific circles continued to grow, as if to show the mind's repudiation of the body's limitations.
After fellow British physicist Roger Penrose in the mid-1960s came up with the theory of black holes resulting from the gravitational collapse of stars, Hawking showed that by mathematically reversing this event one could explain the expansion of the universe.
He noted with irony that he was now working to disprove a good part of the work that first made his name in science.
Hawking, who now believes there was no single Big Bang beginning to the universe, said his focus these days is to see if he can show whether the collapse of black holes results in the elimination of "information" - meaning the energy and matter taken in by the gravitational sink hole.
"Other physicists don't like the idea," he said.
But the disabled students, participants of a collaborative program with the University of Washington, appeared to be more interested in Hawking's short bout as an actor on Star Trek (the episode appeared last weekend) and with his experience as a disabled person.
After giving a brief talk, Hawking fielded questions from students. His responses were delayed by the time it took him to manipulate a clicking device that constructed sentences vocalized by a sound synthesizer, a critical tool for those whose voices are disabled, he noted.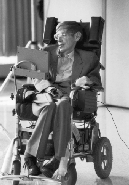 "The only trouble is it gives me an American accent," Hawking joked.
Mike Gallagher, a young Bellevue man and SU student with cerebral palsy and a slight speech impediment, kidded the scientist introduced as the "smartest man in the world" by arguing a point.
"I think your synthesizer has a Norwegian accent," Gallagher said, prompting peals of laughter from the crowd.
Aleysa Reed, an 11-year-old Seattle girl also with cerebral palsy, asked how Hawking could help her get on TV and how he manages to sign legal documents.
Sally Reed said her daughter became enamored with Hawking years ago after seeing him featured on a public television show.
"The thing that most impressed her was here was this brilliant man who needed help eating, just like she needed help," Sally Reed said.
Hawking responded that it was largely an accident he appeared on Star Trek, the script hastily arranged for the show when producers learned he was at a nearby studio for other reasons.
As for his signature, the cosmologist said he just uses a thumbprint.
Hawking said his diagnosis of ALS years ago, besides giving him an appreciation for life, also helped focus his attention on research.
Along those lines, he was asked yesterday if his person feelings about his illness - "Why did this happen to me?" - could also have driven his interest in cosmology. This branch of science basically seeks ultimate answers to why anything and everything has happened.
After mustering a big smile, the sometimes mischievous Hawking worked the buttons his synthesizer for a period of time as if preparing a profound response to the question. "No."