Explore Featured Resources
AccessISL has a wide collection of resources for creating and implementing accessible physical spaces, instruction, services, and technology in informal science learning spaces and opportunities using universal design and effective accommodations. Below we feature current, trending, and relevant brochures, videos, books, and other products that aid in the mission of accessibility, particularly in science, technology, engineering, and mathematics (STEM) fields.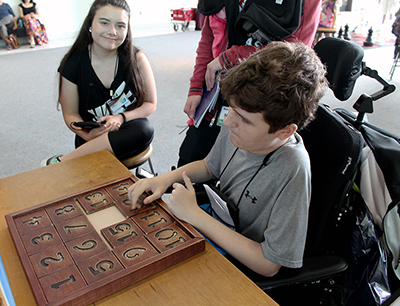 Facilitating Accessibility Reviews of Informal Science Education Facilities and Programs
A resource to help you develop your own accessibility review of informal science education facilities and programs.
American Alliance for Museum's Diversity, Equity, Accessibility, and Inclusion Page
Read the newest updates on museum inclusion topics from news sources around the world.
Accessible Science Equipment
Examples of products that help make science labs accessible to all students.
Design for Accessibility: A Cultural Administrator's Handbook
This resource is designed to assist in making access an integral part of your organization's planning, mission, programs, outreach, meetings, budget, and staffing.
Equal Access: Universal Design of an Academic Department
A look at different ways universal design can make your academic department accessible to all students and faculty. Read the accompanying checklist for a concrete method for discerning what changes are needed to make your academic department welcoming and accessible to all students.
Universal Design in Education: From Principles to Practice
A comprehensive guide on creating fully accessible college and university programs. A unique value to university and college administrators, and to disability and diversity study faculty, researchers, practitioners, and activists. 
Universal Design in Higher Education: Promising Practices
An online book full of practices for implementing universal design, with opportunities for you to contribute to the collection.
More Resources
AccessISL is constantly updating its list of publications and online resources. Find the complete list online.