DO-IT's 25th Anniversary: Celebrate With Us On July 25th!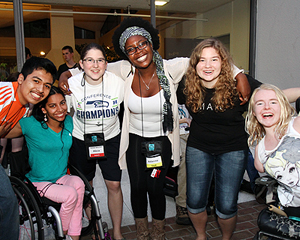 Over the past 25 years, the University of Washington's Disabilities, Opportunities, Internetworking, & Technology (DO-IT) Center has worked to empower people with disabilities by promoting equal access to education and the use of technology as an empowering tool. DO-IT promotes awareness and accessibility—in both the classroom and the workplace—to maximize the potential of individuals with disabilities and make our communities more vibrant, diverse, and inclusive.

On July 25th, at 7:00 pm, DO-IT will be hosting a 25th anniversary celebration on the University of Washington Seattle campus. The event will feature speakers from the DO-IT community, DO-IT's annual Trailblazer Awards ceremony, a keynote message from DO-IT's founder and director, and a celebratory dessert. If you would like to attend, please RSVP by July 21st.

DO-IT has many programs directly serving students and job seekers with disabilities. In addition, DO-IT's education and training efforts are helping teachers, parents, college faculty, service providers, employers, and others work more effectively with them.

According to DO-IT founder and director Sheryl Burgstahler, "Directing DO-IT for 25 has been a pleasure. I'm continually amazed by the challenges our participants overcome to reach their dreams. They make the world a better place for all of us."
K, a DO-IT participant, shares "No matter how far you might be in your schooling or career, someone from DO-IT, whether it be another participant, mentor, or a staff member, is there to help cheer you on. They will help answer just about any question, and address any concerns you might have as you move forward in life."

DO-IT solicits support each year to supplement funding for the DO-IT Scholars program, which hosts a multi-year two-week summer study on the University of Washington campus for high school students with disabilities. For more information about participating in DO-IT activities or making a financial contribution, visit our 25th Anniversary webpage.

Media inquiries should contact DO-IT Program Manager Scott Bellman, 206-685-6222, swb3@uw.edu.