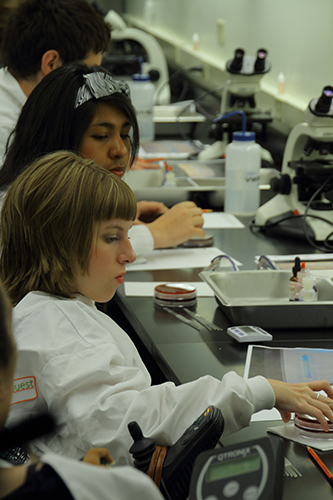 The DO-IT Center, its staff, and its participants have been featured in numerous articles in newspapers, journals, and magazines. Staff, mentors, and collaborators have received many local, regional, and national awards. A few are described below.
2021 NAPE Diversity in Technology Leadership Award
Presented to DO-IT Director Sheryl Burgstahler for being a role model to the national community of excellence in technology and/or STEM.
2017 Induction into the Susan M. Daniels Disability Mentoring Hall of Fame
DO-IT was inducted for its comprehensive mentoring program and its position as the longest standing online mentoring community for individuals with disabilities in the world.
2012 Strache Leadership Award
Sheryl Burgstahler was honored for her leadership in working with students as an educator and mentor and empowering people with disabilities with technology.
2007 Career Opportunities for Students with Disabilities Greenberg Award for Innovation
Presented to Sheryl Burgstahler, it recognized innovative efforts in securing employment opportunities for students with disabilities.
2007 American Society of Engineering Education Best Zone Paper Award
Richard Ladner and Sheryl Burgstahler, co-directors of AccessComputing, and Tammy VanDeGrift and Annamarie Poginy were recognized for their manuscript, The Game of Life Workshop - Reaching Out to High School Students with Disabilities.
2006 Trace Research and Development Center Catalyst Award
The Trace Research and Development Center recognized Sheryl Burgstahler for extraordinary accomplishments in motivating stakeholders to promote the success of people with disabilities.
2002 Washington Association for Postsecondary Education and Disabilities (WAPED) Achievement Award
WAPED recognized the exemplary work of DO‑IT in helping students with disabilities achieve success in postsecondary education.
2000 Golden Apple Award
DO-IT's contributions to excellence in precollege education in Washington State were recognized.
1999 Best of the Northwest Film Video Festival Award of Excellence - Informational Category
The producer of DO-IT videos, Charlie Hinckley, was recognized for The Winning Equation - Access + Attitude = Success.
1997 The President's Award of Excellence in Mentoring
President Clinton recognized DO-IT's success in mentoring students with disabilities in STEM.
1995 The National Information Infrastructure Award in Education
Recognition was given to DO-IT for the its creative use of the Internet with individuals with disabilities.
1995 Washington Association for Postsecondary Education and Disabilities (WAPED) Organization Award
Presented to DO-IT for an outstanding record of service to people with disabilities.
More information about awards presented to DO-IT, its staff, and participants can be found at www.uw.edu/doit/about/awards.