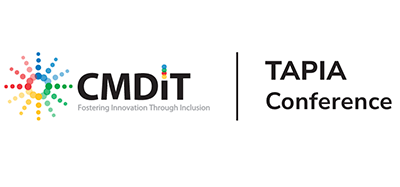 The 2021 CMD-IT/ACM Richard Tapia Celebration of Diversity in Computing Conference (Tapia Conference) was held virtually September 15-18, 2021. There were 126 sessions over the three days, with 22 containing disability or accessibility-related topics. Of the 22, three were led by AccessComputing staff, and another nine were led by AccessComputing Partner representatives. 
AccessComputing Partner representatives were also active in the leadership of the conference. Patti Ordonez from University of Puerto Rico Rio Piedras was the program chair, Brianna Blaser from the University of Washington was the accessibility chair, Raja Kushalnagar from Gallaudet University was the academic and workshop deputy chair, Stephanie Ludi from the University of North Texas was the technical panels and workshops chair, and Elaine Short was the scholarship deputy chair. It was wonderful to see so many of our partners involved in the success of the conference.
Highlights of the conference were the keynote addresses by Jenny Lay-Flurrie, chief accessibility officer at Microsoft and Cecilia Aragon, professor in the Department of Human-Centered Design and Engineering at the University of Washington, both of whom have disabilities. Lay-Flurrie described her work at Microsoft to help make the company more accessible and welcoming for employees with disabilities and Microsoft's commitment to making its products and services accessible. Aragon, who is also Latina, described her youth as a very shy person without much confidence, who, with encouragement from her family, gained the confidence to become a pilot of the US Aerobatics Team. Both were very inspirational. 
We congratulate Aboubakar Mountapmbeme, a graduate student of Stephanie Ludi (the representative from University of North Texas as an AccessComputing Partner), who won the Tapia 2021 Doctoral Consortium Best Presentation Award for his work "Understanding and Addressing Accessibility Barriers Faced by People with Visual Impairments on Block-based Programming Environments." ​​We also congratulate AccessComputing Research Experience for Undergraduate participant and student at Western Washington University, Erin Howard whose "Leveraging Statistical Analysis to Develop Classification Labels for Astronomical Time Series Data" took second place in the poster competition.
A theme of five of the sessions related to disability was on the mental health of students. This reflects the added stress on students, and all of us, during the long COVID-19 pandemic and since the murder of George Floyd in May 2020. It is good to see mental health being part of the Tapia agenda and part of the conversation about diversity. 
The session by Christine Chai on "My Autism Journey: From Self-Doubt to Acceptance" described her experiences from learning she was autistic to finding a satisfying position working in data science at Microsoft. Her path was not a straightforward path but one of self-discovery and self-advocacy. Congratulations to Dr. Chai on her wonderful session.