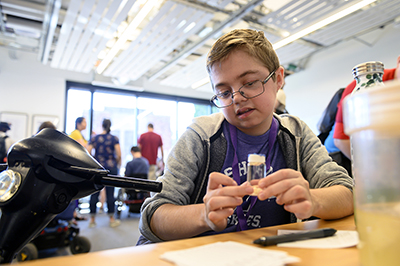 The University of Washington's (UW) DO-IT Center and Museology Program are collaborating on a newly funded two-year Access to Informal STEM Learning for Participants with Disabilities (AccessISL) project. It is funded by the National Science Foundation Advancing Informal STEM Learning (AISL) Pilots and Feasibility Studies program (Grant #DRL-1906147). The grant will support efforts to develop a capacity building model for making informal science learning (ISL) opportunities more welcoming and accessible to individuals with disabilities.
DO-IT Director Sheryl Burgstahler said "We are excited about the potential AccessISL has to increase opportunities for people with disabilities to learn about science through museums, science centers, and other informal science programs."
The project will help faculty and ISL personnel increase knowledge, skills, and actions to make ISL programs, facilities, courses, and resources more welcoming and accessible to participants with disabilities and embed relevant practices within their work. The project will also engage postsecondary STEM students with disabilities and museology students and increase knowledge and skills in advocating for ISL offerings that are welcoming and accessible to everyone, including those with a wide variety of disabilities, as well as encourage individuals with disabilities to pursue careers in ISL.
Dr. Meena Selvakumar states "The Museology Program is excited to integrate learnings and practices from the AccessISL project into our pedagogy. We believe this will have a positive impact on our emerging museum professionals as they go on to be agents of change in the field."
Staff of informal science education programs, educators, and other stakeholders are invited to join the AISL Community of Practice (CoP). The CoP provides opportunities for participants associated with ISL programs to share best practices, form collaborations, and highlight project activities. Learn more online.