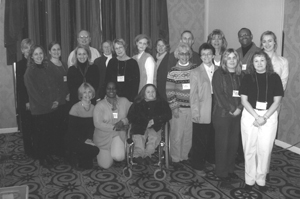 A team of professionals, representing postsecondary institutions from twenty-three states in the United States, met in three collaborative meetings, communicated year-round, delivered professional development to faculty and staff, and helped develop and test the professional development content and strategies included in these train-the-trainer materials. Their continuous involvement assures that project products have applicability nationwide.
The DO-IT Admin project team includes disabled student services staff, faculty, and administrators at institutions of higher education in twenty-three states. The nationwide recruitment process was highly competitive. Applicants for project team membership were rated by DO-IT's Academic Advisory Board. The Board based its ratings on past efforts in this area, team diversity, and the potential to contribute to project efforts.
DO-IT Admin team members are listed below. Each member chose an institutional partner in the team member's state. A team member from a four-year institution partnered with one from a community or technical college, and a team member from a community or technical college partnered with one from a four-year institution. Each partner school has demographics (e.g., racial/ethnic diversity, size, location) that are different from those of the project team institution.
Alice Anderson
University of Wisconsin-Madison
Madison, Wisconsin
alice.anderson@doit.wisc.edu
Partner: Jackey Higby Thomas
Madison Area Technical College
Madison, Wisconsin
Beatrice Awoniyi
Florida State University
Tallahassee, Florida
bawoniyi@admin.fsu.edu
Meryl Berstein
Johnson and Wales University
Providence, Rhode Island
mberstein@jwu.edu
Partner: Tracy Karasinski
Community College of Rhode Island
Warwick, Rhode Island 
Sharon Bittner
Des Moines Area Community College
Ankney, Iowa
sgbittner@dmacc.org
Deborah Casey-Powell
Green River Community College
Auburn, WA
dcasey@greenriver.edu 
Rosemary Coffman
Lee College
Baytown, Texas
rcoffman@lee.edu
Partner: Jean Ashmore
Rice University
Houston, Texas
Jane Furr Davis
Hunter College
New York, New York
jane.davis@hunter.cuny.edu
Partner: Columbia-Greene Community College
Hudson, New York
Jill Douglass
Santa Fe Community College
Santa Fe, New Mexico
jdouglass@sfsccnm.edu
Partner: Donna Collins College of Sante Fe
Santa Fe, New Mexico
Jim Gorske
University of South Carolina Spartanburg
Spartanburg, South Carolina
jgorske@uscs.edu
Partner: Sharon Bellwood
Greenville Technical College
Greenville, South Carolina
Pam Griffin
University of Minnesota, Duluth
Duluth, Minnesota
pgriffin@d.umn.edu
Partner: Anita Hanson
Fond Du Lac Tribal and Community College
Cloquet, Minnesota
Grace T. Hanson
Mt. San Antonio College
Walnut, California
ghanson@mtsac.edu
Partner: Dave Sanfilippo
California State University Long Beach
Nancy Hart
Lane Community College
Eugene, Oregon
hartn@lanecc.edu
Partner: Margaret Dibb
Southern Oregon University
Ashland, Oregon
Dyane Haynes
University of Washington Seattle
Seattle, WA
dyane@u.washington.edu
Partner: Richard Okomoto
Seattle University
Seattle, Washington
Elaine High, or John Pedraza
Michigan State University
East Lansing, Michigan
high@msu.edu or pedrazaj@msu.edu
Partner: Scott Hickman
North Central Michigan College
Petoskey, Michigan
Richard Jones
Arizona State University
Tempe, Arizona
richj@asu.edu
Partner: Steve Schroeder
South Mountain Community College
Phoenix, Arizona
R. Scott Laurent
University of Missouri-Kansas City
Kansas City, Missouri
laurentr@umkc.edu
Partner: Mary Ellen Jenison
Longview Community College
Lee's Summit, Missouri
Rodney Pennamon
Georgia State University
Atlanta, Georgia
disrep@langate.gsu.edu
Partner: Carolyn Swindle
Gainsville College
Oakwood, Georgia
Patricia Richter
Kutztown University
Kutztown, Pennsylvania
richter@kutztown.edu
Partner: Lehigh Carbon Community College
Schnecksville, Pennsylvania
Sharon Robertson
University of Tennessee, Martin
Martin, Tennessee
sroberts@utm.edu
Partner: Fred Deaton
Jackson State Community College
Jackson, Tennessee
Rosezelia Roy
Virginia State University
Petersburg, Virginia
rroy@vsu.edu
Partner: Debby Wilkerson
J Sargeant Reynolds Community College
Richmond, Virginia
Al Souma
Seattle Central Community College
Seattle, Washington
asouma@sccd.ctc.edu
Partner: Richard Okomoto
Seattle University
Seattle, Washington
Suzanne Tucker
Southern Connecticut State University
New Haven, Connecticut
tucker@scsu.ctstateu.edu
Partner: Toni Page
Gateway Community College
New Haven, Connecticut
Linda Walter
Seton Hall University
South Orange, New Jersey
walterli@shu.edu
Partner: Cathleen Doyle
Raritan Valley Community College
Somerville, New Jersey 
DO-IT Admin project team members conducted focus groups with student service staff and administrators and students with disabilities on their campuses to explore strategies for increasing access for students with disabilities. At collaborative meetings in Seattle, team members discussed professional development and technical support issues and strategies and created professional development materials.
At team member and partner campuses, professional development programs were delivered, materials were disseminated, strategies for providing technical assistance to student service administrators and staff were explored, and successful practices were implemented. Discussion and coordination of DO-IT Admin activities took place year-round on an interactive Internet discussion list.
All DO-IT Admin project materials, including online resources, video presentations, and printed materials, are available in The Conference Room, and are offered in formats that are readily accessible by individuals with disabilities. Permission to copy and further distribute project products is granted provided the source is acknowledged.
Ultimately, DO-IT Admin and DO-IT Prof materials and activities will result in greater postsecondary education and career opportunities for individuals with disabilities. I hope you will find these materials useful in your efforts to ensure that all students on your campus have equal opportunities to learn, explore interests, access services, and express ideas.
Sheryl Burgstahler, Ph.D. Director, DO-IT