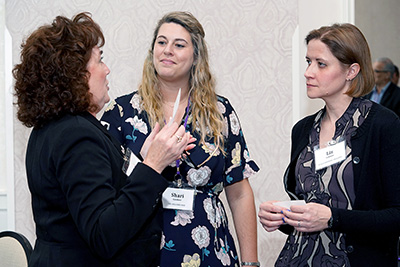 What new barriers and challenges have you uncovered as you increasingly engage individuals with diverse characteristics? How can future projects, initiatives, or collaborations address these challenges?
The following challenges were identified by CBI participants:
Many projects that are working to increase diversity exclude sub groups and end up only focusing on one small piece of diversity or ignoring intersectionality.
There isn't enough data on many minority groups.
Many of the key stakeholders who have the potential to make an impact are from STEM backgrounds, but don't have social science backgrounds.
Many programs don't have open admission.
Often times, higher education administration does not understand the importance of broadening participation programs and clear goals related to inclusion.
Partners need more training on how to accept and advocate for all groups served.
We must ask ourselves how we can find the best way to connect with and engage different groups, audiences, and stakeholders.
Many people feel like they cannot disclose their disabilities, or other diverse characteristics/identities, due to lack of acceptance.
At times, campus leaders only acknowledge the importance of mentoring in terms of time and effort.
Underrepresented students may feel "forced" to voice their own opinions rather than feeling comfortable and voicing it when they are ready.
There is a need for more education on microaggressions for educators and mentors. 
Mentors and educators don't always know how to communicate with people from different backgrounds or from different minority groups.
Some educators or leaders don't always see the value in diversity or use a "bootstraps" approach.
Lack of funding opportunities limit the number of opportunities and programs.
Addressing the challenges:
The funding agencies should provide more guidance to university administrators to promote the importance of these programs.
Faculty and student mentors need training on how to secure diverse groups and how to be more welcoming when those groups arrive.
New practices and policies should be enacted to help students comfortably disclose their diverse characteristics and identities.
Everyone has implicit biases. More faculty need training on this subject.
Schools should collaborate with organizations that help expand knowledge in universal design.
Each organization or institution should have more self-awareness on their own downsides and struggles.
Look for what has worked, what has been proven successful, and replicate or expand on those activities and initiatives.
What resources would be useful to the ERC and INCLUDES communities to help them improve recruitment, reporting, and activities with respect to broadening participation issues?
Sharing Metadata collections, metrics, and resources.
Engaging with non-profit groups in STEM.
Connecting with external evaluators for formative and summative evaluation to strengthen proposals and awards.
Connecting with proposal writers.
Collaborating on writing white papers.
Creating tools to avoid addressing and/or defining underrepresented groups from a deficit framework.
Using programs similar to Research Experiences for Undergraduates (REUs) so that people working with underrepresented groups have more access to STEM.
Using more languages within programs for those who don't primarily use English. 
Creating a national research mentoring network.
Promoting outreach that links ERCs with INCLUDES work.
Developing tools and tips for writing INCLUDES proposals.
Sharing common activities and strategies between ERC and INCLUDES projects.
Making an active effort in creating a more inclusive environment.
Sharing information on network expertise and partners/programs in a database.
What best practices exist for improving the ability of educators and stakeholders to comfortably talk about race, ethnicity, gender, disability, and other diverse characteristics? How can ERC-INCLUDES help disseminate these materials broadly within ERCs and INCLUDES initiatives?
Creating top level material and sharing it freely.
Sharing high quality, captioned videos.
Exploring different identities and sharing resources.
Taking an appreciative inquiry approach.
Hosting implicit bias training.
Teaching tolerance at a younger age (K-12).
Training growth mindset for faculty and others.
Offering a platform that allows people to create a safe environment.
Culminating a formal and supportive staff to provide resources.
Reading Our Separate Ways: Black and White Women and the Struggle for Professional Identity by Ella L J Bell Smith, Ella L. J. Edmondson Bell, and Stella M. Nkomo.
For ERCs, offering seminars that educate members on inclusion and diversity and creating special events that promote minority students and faculty culture.
Creating interactive theater (e.g. Cornell Interactive Theater Ensemble or Carnegie Mellon online version).
Offering sensitivity training within research teams in the interest of optimal productivity.