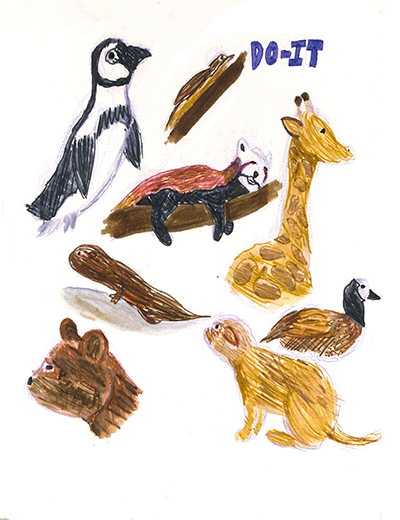 We visited the Woodland Park Zoo on Sunday, July 21. It was very hot out. We started our adventure at the south entrance and made our way up the main loop towards the tropical rainforest exhibits.
We first came across the ring-tail lemurs. They seemed to be sleeping, until after a few minutes they began to stir, groom, and stare at us from a shaded area atop a hill. In the exhibit next door, we saw red ruffed lemurs lazily lounging in the sun on some low hanging branches over a stream.
As we continued, we visited the den of the jaguar, who was prowling about and wondering around the enclosure. We also got to see the gorilla exhibit, where we saw one of the gorillas lying asleep. When we got to the gorilla's exhibit, we were very surprised and sad to find out that the mountain gorilla is critically endangered; there are only around 1,000 mountain gorillas left in the wild. It was cool to see one in person at the zoo.
After we were done visiting with the gorillas, we passed by the penguin exhibit by the west entrance. There were also seagulls and a great crane hanging out. At this point, we had worked up an appetite and decided to grab lunch.
We enjoyed seeing all the animals about on a "lazy" Sunday, and overall liked our trip to the Woodland Park Zoo. This was a small insight into our trip to the Woodland Park Zoo.