Apple released the iPhone XS and XS Max back in September 2018 as an upgrade to its latest line of smartphone. At the same time, Apple also released a major update to its mobile operating system, iOS 12. In October 2018, the iPhone XR was released as a more cost-effective option over the sleek XS series.
The iPhone XS retail price starts at $999 for 64GB of memory and has a similar form factor to its predecessor. The XS Max boasts a 6.5-inch display with no bezel and starts at $1,099 for 64GB of memory. With Apple's latest smart phone release, the iPhone XR, consumers can take advantage of the newest technology at a more practical price point, starting at $749 for 64GB of memory.
Hardware and Formfactor
As mentioned earlier, the iPhone XS is comparable to the iPhone X, which was reviewed in an earlier DO-IT newsletter, the only noticeable difference over time will be the upgraded processor. Right now, the A12 Bionic Processor included in the XS series helps launch apps faster but drags battery life down a bit. The XS and XS Max have a stainless-steel metal frame that makes them sturdy, heavy, and a bit awkward when holding the larger phone in one hand. Operability may be limited when using the XS Max for individuals with mobility or hand strength issues due to the larger screen size and weight.
Consumers may be drawn to the XR as an upgrade to their outdated smartphone. The XR is less expensive than the XS series, has a slightly larger screen than the XS, and has much better battery life overall. The only disadvantage of the XR compared to the XS series is the rear camera, which has a single lens with no telephoto option.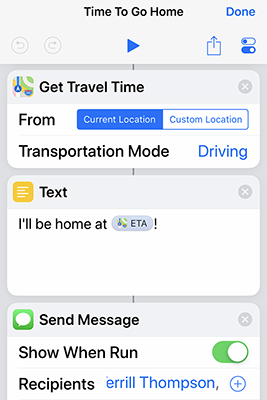 Operating System Updates
The real accomplishment Apple achieved this past fall was the release of iOS 12, an under the hood revamp of iOS 11. This included a new feature that may help with accessibility.
Siri Shortcuts allows users to assign verbal phrases to common tasks performed regularly on your iPhone. It is a consolidation designed to reduce the cognitive load of remembering a series of gestures to complete a task or a series of tasks. For example, announcing to Siri "Time to go home," can simultaneously send an iMessage to a caregiver notifying them of your ETA, bring up an accessible transit route home using Apple Maps, and send an alert to a third-party key fob reminder—broadcasting its location.
Siri is getting smarter through AI, using Siri Shortcuts will allow this service to learn more about your behaviors and make your smartphone easier to use. Using the Shortcut App that came along with the upgrade of iOS 12 (don't worry, if you deleted it like I did, you can always go to the App Store and download it for free) is a good place to start. Users can browse through the gallery for pre-configured shortcuts and input the information to begin.