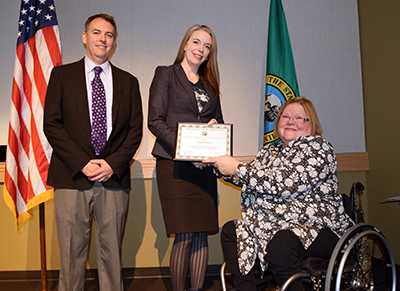 Sean Marihugh, Microsoft employee and 2009 Ambassador, and Michael Reese of Bellevue College nominated Tami Tidwell for the 2017 Governor's Committee on Disability Issues and Employment's (GCDE) Direct Support Professional on the Year.
Tami has worked for DO-IT for thirteen years. During that time, she has empowered hundreds of students with disabilities to achieve their goals. Tami truly cares about all the students she works with. She has been a lead staff of projects such as AccessSTEM, AccessSTEM CAREERS, and DO-IT Scholars, dedicating her time to help students learn the best methods for getting through competitive college programs and into challenging careers.
Tami was honored as a nominee during the award ceremony on October 31st. DO-IT is lucky to have a dedicated employee such as Tami working with students in our programs.