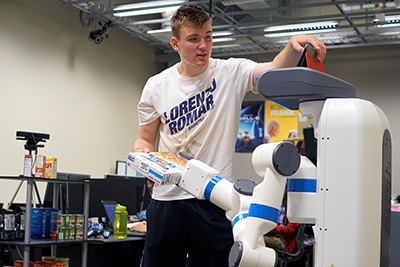 Phase 2 Scholar Jacky edits the robot's code during the robotics workshop at Summer Study 2017.
Do you like robots? Are you wondering what robots can do in the lives of people with disabilities? Well, you're in luck because this article covers the DO-IT Phase II Robotics workshop at the University of Washington. Maya Cakmak is an assistant professor at the University of Washington, and was the lead staff for the robotics workshop. She teaches students how to program robots in order to help people with disabilities live independently. Justin Huang, a 5th year Ph.D student, also helps with this process.
The students in this workshop had to create a robot that helps people at the grocery store. The robot is designed to do a plethora of things including picking items off a shelf and offering different options to customers who were interested in a certain product. The Phase II Scholars had to do just that. We used Codeit, software used to program robots to do specific functions, to make the robot's arm move and perform our desired tasks. With help from instructors and hands on learning from peers, the students designed a robot that showed how robots can be a benefit in our society.
Watch a video about the workshop online.
The Phase II Scholars who participated in the robotics workshop were Adrian, Rochelle, Serena, Micayla, Takashi, Jacky, and Jarrod.