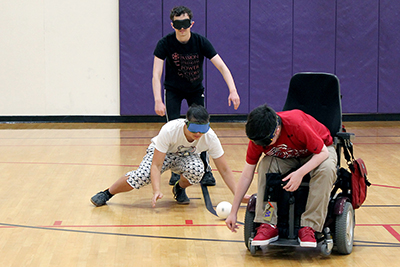 Scholars Ryan, Takashi and Jonah try to locate the beeping baseball while wearing blindfolds during the accessible sports expo at Summer Study 2017.
On Sunday we went to the Intermural Activities Building, a fitness center on the University of Washington campus. There we played a variety of accessible sports. The first sport we played was goalball, which is a sport for people with visual impairments. We put on blindfolds and were tasked with defending a goal from a heavy, jingling ball, by throwing ourselves out to block it. It was terrifying at first, but once we got the hang of it we started to have a lot of fun.
The second sport we played was beep baseball. Since the gym didn't have all the equipment, people just rolled beeping balls at us while we were wearing the blindfolds. This activity was a lot like goalball, but the balls were a lot smaller and therefore much harder to grab as they were rolling towards us. We honestly couldn't catch any of them without laying flat on the ground. Even though this sport was harder than goalball, it was still a fun and interesting experience.
In wheelchair basketball, the instructors showed us how to play basketball while using wheelchairs. We practiced dribbling the basketball, traveling with the ball, playing defense, and making baskets. At the end we played a scrimmage, with five people per team. It was interesting to learn a different way to play basketball.
We also played seated volleyball. At first we learned two different ways that you can hit the ball. Then we played a scrimmage game for the rest of the time. We learned that you have to slide around the court but cannot stand up, which was especially challenging.