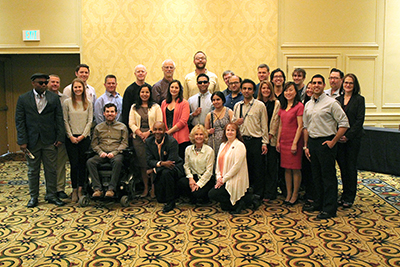 Stakeholder groups represented in the CBI included
student service leaders and administrators,
faculty members,
students, and
professional organizations.
The following individuals participated in the CBI.
Imran Ahmed
Jaws Script Writer and Assistive Technology Instructor
Bosma Enterprises
Hina Altaf
Assistive Technology Specialist
Center for Sight & Hearing
Chetan Bakhru
Senior Accessibility Specialist
JPMorgan Chase
Anthony Baylis
Director, Office of Strategic Diversity and Inclusion Programs
Lawrence Livermore National Laboratory
Jeff Bigham
Associate Professor
Carnegie Mellon University
Brianna Blaser
Program Coordinator
AccessComputing, University of Washington
Sheryl Burgstahler
Co-PI
AccessComputing, University of Washington
Scott Burlingame
Executive Director
Independence Inc.
Matt Coin
Recruiting Manager
Salesforce
Lyla Crawford
Program Coordinator
AccessComputing, University of Washington
Marvin Crippen
Computer Systems and Web Specialist
University of Washington
Michael Forehand
Recruiter
Boeing, Global Staffing
Jen Guadagno
Inclusive Hiring Program Manager
Microsoft
Shaun Helkey
Employment Consultant
PROVAIL
Jean Hodgson
Employment Consultant
PROVAIL
Joel Isaac
Sr. Accessibility Specialis 
JP Morgan Chase
Amy J. Ko
Co-PI, Associate Professor
AccessComputing, University of Washington
Blake Konrady
Employment Services Manager
PROVAIL
Richard Ladner
PI, Professor
AccessComputing, University of Washington
Christopher Langston
User Experience Researcher – Accessibility
Pearson
Elizabeth Lee
Publications Coordinator
AccessComputing, University of Washington
Sean Marihugh
Escalation Engineer
Microsoft
Matt May
Sr. Program Manager, Accessibility,
Adobe
Jywanza Maye
Department of Defense
Meredith Morris
Senior Researcher
Microsoft Research
David Nichols
Technical Services Manager
Skills Inc
Susann Sears
Acting Director
University of Illinois at Urbana Champaign
Sam Sepah
Technical Recruiter
Google
Ady Sharma
Senior Corporate Recruiter
Boeing
Laura Steele
Deputy Director
Blue Water Center for Independent Living
Terrill Thompson
Technology Accessibility Specialist
Accessible Technology Services, University of Washington
Devan Vaughn
Program Manager - Global Talent Acquisition
Microsoft
Jacob Wobbrock
CO-PI, Associate Professor
AccessComputing, University of Washington