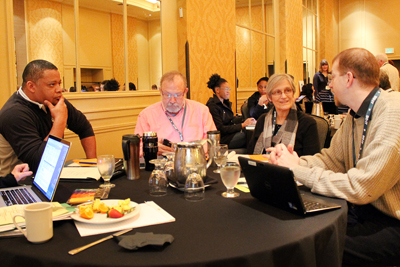 Wednesday, February 4
7 – 9 pm
Reception    
Thursday, February 5
8 – 8:30 am          
Breakfast and Networking
8:30 – 9 am            
Welcome, Introductions, and Goals
Sheryl Burgstahler, University of Washington
9 – 9:45 am            
Overview of IT Accessibility Issues
Sheryl Burgstahler, University of Washington
10 – 11 am
Web Accessibility
Terrill Thompson, University of Washington
11 am – 12 pm
Document Accessibility
Dan Comden, University of Washington
12 – 1 pm
Lunch and Discussion
What barriers do you face on your campus related to IT accessibility? 
1 – 1:30 pm
Report Out from Lunch Discussion
Sheryl Burgstahler, University of Washington
1:30 – 2:30 pm
Video Accessibility 
Doug Hayman, University of Washington
Panelists: Joetta Sieglock, Karen Fusco, Jon McGough, Kathleen Chambers
2:45 – 3:45 pm
Panel: Student Perspectives
Panelists: Cindy Bennett, Kayla Wheeler, Macy Westrick, Alicia Teasley, Tony Ive
3:45 – 4:45 pm
Working with Vendors
Hadi Rangin, University of Washington
5 – 6 pm
Policies, Task Forces, Advisory Boards, Other Administrative Issues 
Sheryl Burgstahler, University of Washington
7 – 9 pm
Dinner and Discussion    
What strategies can you implement on your campus to encourage accessibility of webpages, videos, and documents?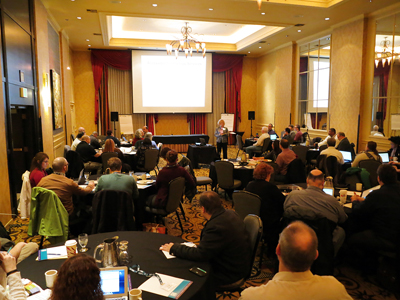 Friday, February 6
8 – 9 am
Breakfast and Networking
9 – 9:30 am
Review of Dinner Discussion
Sheryl Burgstahler, University of Washington
9:30 – 10:30 am
Partner Activity
Participants from each institution will work together to identify specific steps, both short term and long term, they can take to increase accessibility on their campus or to encourage others to do so. 
10:30 – 11 am
Report Out
11 am – 12 pm
Discussion
How can we address the needs identified in the small group discussion? How might we collaborate to support one another? 
12 – 1 pm
Lunch and Continued Discussion
Evaluation of CBI