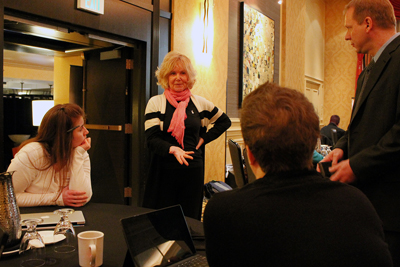 The IT Accessibility in Higher Education CBI provided a forum for sharing interventions and strategies that promote accessibility of IT at colleges and universities. Attendees, in teams of two—a disability service professional and an IT professional from each specific school—came from postsecondary educational institutions across Washington State. Many attendees had disabilities themselves. In total, over fifty participants were in attendance.
The CBI provided a forum to share expertise, practices, suggestions for future collaborations, and funding ideas. Broad issues discussed included
Ensuring the accessibility of websites; Word, PDF and PowerPoint documents; and learning management systems (LMSs)
Captioning videos
Developing accessible online learning courses
Providing assistive technology 
Promoting universal design and accessible IT
Exploring legal obligations for creating and using accessible IT
Considering accessibility in IT purchases
Engaging IT vendors in accessibility improvements
Exploring opportunities for future statewide support and collaboration
In small working groups, participants responded to the following questions:
What barriers do you face on your campus related to IT accessibility? 
What strategies can you implement on your campus to encourage accessibility of webpages, videos, and documents? 
What specific steps, both short term and long term, can you can take to increase accessibility on your campus or to encourage others to do so? 
How can we address the needs identified in the small group discussion? How might we collaborate to support one another? 
In this CBI
all participants contributed to its success;
experts in all topic areas were in the audience; and
new concepts evolved from discussions.
The CBI was comprised of presentations, panel discussions, and group discussions. CBI participants shared their diverse perspectives and expertise. The agenda for the CBI and summaries of the presentations are provided on the following pages.