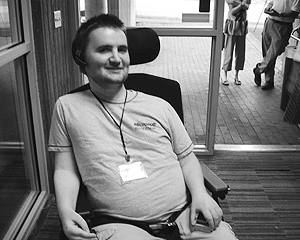 Chris
I graduated last year from the UW with a degree in computer science. I have muscular dystrophy, which is a genetic disease that weakens muscles, and I now use a power wheelchair. During high school, I became a DO-IT Scholar. This program promotes the use of technology to prepare youth with disabilities for higher education and careers, particularly those in high-tech fields. Through DO-IT Scholars, I participated in academic summer programs at the UW, engaged in an electronic community of peers and mentors, and learned about internships and other opportunities.
As a DO-IT Scholar, I took part in a several video conferences with educators in Japan. I was invited to lecture at the first DO-IT Japan Scholars program in 2007, where I shared personal experiences and insights.
While in high school and college, I had a number of tech-related internship experiences in government agencies and large corporations. In 2004, I was a high school intern at Microsoft. This was my first real work experience. The following summer, I worked in the human resources department of a telephone company's call center. In 2006, I was selected as a federal IT intern by the American Association of People with Disabilities. This opportunity took me to Washington, D.C. where I worked in the Department of Commerce. During the summer of 2007, I was back working with Microsoft on the SharePoint team. Toward the end of this internship, I was invited to return as an employee. I am currently a Microsoft employee (after taking some time off for fun after graduation in late summer 2008). My main accommodations at work are an adjustable work station and assistive technology so I can operate a computer.
I am also a United States Business Leadership Network (USBLN) Student Advisory Council Member. I have participated in the past two USBLN national conferences in Florida and Oregon. As a USBLN council member I hope to share what I have learned about preparing for and succeeding in my computing career.
Research shows that students with disabilities who participate in work-based learning experiences are more successful than their peers who do not. Internships, job shadows, informational interviews, and other work-based learning experiences help students:
pay for their education and gain academic credit
develop job-searching skills, resumes, and cover letters
clarify academic and career interests
broaden human relation skills through interaction with co-workers
gain exposure to specialized facilities not available on campus
expand their list of contacts for employment after graduation
practice disclosing their disability and requesting accommodations
For more information about the value of work-based learning, read the DO-IT publication It's Your Career: Work-Based Learning Opportunities for College Students with Disabilities at www.washington.edu/doit/its-your-career-work-based-learning-opportunities-college-students-disabilities.
Postsecondary students with disabilities can request assistance in locating internships in high-tech fields by contacting AccessComputing staff at accesscomp@u.washington.edu.