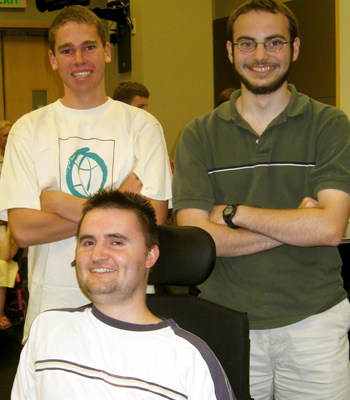 Chris (front) '02 Scholar, University of Washington graduate, Microsoft employee, and DO-IT Trailblazer mentors two Microsoft interns, '08 Scholar Aaron (right) and DO-IT volunteer Travis.
DO-IT Trailblazer awards highlight DO-IT community members who forge new pathways that will benefit others. We select individuals who, through their work and accomplishments, have changed the way the world views people with disabilities and have increased their potential to succeed in college, careers, and community life. Congratulations to this year's honorees!
Kim Borowicz, disability rights lawyer at Access Living and DO-IT Mentor, for contributions on a national level to the field of disability law and a commitment to tackling issues of access to transportation, media, and education for people with disabilities.
Loren Mikola, disability inclusion program manager at Microsoft and AccessSTEM team member, for contributions in making Microsoft an inclusive environment for employees with a wide variety of abilities and disabilities and for promoting the design of accessible technology.
Kris Rosenberg, DO-IT Ambassador and '94 Scholar, for contributing to the long-term success of DO-IT's college preview and technology program at Camp Courage by volunteering his time to provide lab set-up, technology support, instruction, and mentoring.
Jessie Sandoval, DO-IT Ambassador and '98 Scholar, for academic achievement and pursuit of a career in disability law.
Chris Schlechty, DO-IT Ambassador and '02 Scholar, for academic achievement, pursuit of a career in computing, and mentoring interns with disabilities nationwide in the workplace.